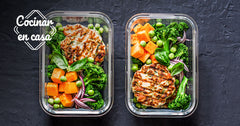 Start with all the attitude and a renewed plan to improve your diet this year.
Every year that starts we find full gyms and thousands of people looking for the fastest way to lose weight or feel good, and it is that many times we forget that taking care of our health and our diet it is an everyday job.
And no matter how much we exercise, eating is a fundamental part of improving how we look and how we feel. Many times we are so immersed in our new routine that we forget that we must make some changes in the way we eat and that is exactly what we will talk about today.
Has it ever happened to you that you arrive at lunch or dinner without knowing what to eat? And it is in these moments that we choose to buy junk food. With such a busy life, cooking at home has become more complex every day, hence the importance of planning and organizing our week.
Here in Don Zabor's Blog we will share tips to create your own food routine and you can take greater control of the food you consume day by day.
1.Create your weekly food agenda.
Whether you are on a diet or simply want to eat healthier, you should plan what you will eat each day, this will help you make the shopping list and save time. Think of delicious things that you like to eat, make a list with all the ingredients you need and make the purchase. You will find that today is easier through our online store
2.Avoid eating on the street.
We're sure you'd be surprised at the amount of money we spend eating out so cooking at home will help you save money and take care of your body. According to various studies, it is estimated that in Mexico we spend about 18.2% of our income on eating outside the home.
Although these Mexican snacks are delicious, most of them are prepared with high energy density due to their fat and sugar content, as well as high levels of sodium. We are not telling you not to eat them, but you can devise your plan to avoid these dishes during the week and save them for Saturdays and Sundays.
3.Research new recipes and ingredients.
Let your imagination run wild and create custom menus. You can experiment with thousands of products that you still do not know, since in Mexico you can find countless products of the best quality. Explore different vegetables, peppers, grains and spices, be your own guinea pig.
Don't know what to cook? You have tons of recipes on our blog that are super easy to prepare and it doesn't hurt to dust off grandma's cookbook. ask and share your favorite recipes with your family.
4. Vary the food with small changes
If you make your weekly plan, you will find that sometimes you will have to repeat a salad or protein. For example, you can cook chicken for your meal the next 3 days and you will surely think that you will eat the same thing, however the secret is to change the preparation.
You can prepare the first one with a little chile guajillo, the second with basil and lemon and the last one with tomato and your favorite cheese in the center. In the case of salads, we suggest you buy a mix and prepare different dressings or vinaigrettes so that you can try something different every day.
5.Dedicate and enjoy the time cooking
For first-timers and those who don't have time, it is best to cook 1 to 2 times a week, portioning the food and placing it in containers in the refrigerator, so you will have food without having to stop your daily activities
Make the environment as comfortable as possible while you cook, you can put on your favorite music or a podcast. Always keep in mind that this time is for you, to take care of your diet and improve your quality of life.
6.Have a healthy snack on hand
Taking care of your cravings is one of the most difficult things you will have to do, so we recommend you have a package of mix of nuts and dried fruits on hand. Every time you feel hungry, you can have some nuts to calm your craving.
We hope that these tips will help improve your diet and don't forget to visit us at our online store to learn about and order the products to make your weekly plan as well as explore more recipes and notes on our blog. Find all our products at any Walmart, Superama, Bodega Aurrera, H-E-B, laComer, Alsuper and at your nearest store.
.