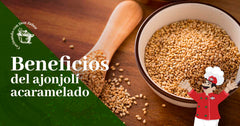 Have you ever used sesame for cooking? If your answer is yes, now we want to tell you a little more about the benefits of this seed, as well as the uses for its caramelized version, such as the 100 and 150 gram presentations. by Don Zabor, so keep reading our note because we have valuable information for you.
Source
The sesame seed comes from the sesamum indicum plant from India and Africa, it is also known by the name "sesame", and because it is oily. There are a variety of types of sesame which are classified by their color: there is white, brown or tan and black. Despite being a seed that is produced in countless countries, in ours it is also traditionally grown in the states of Chiapas, Guerrero, Oaxaca, Sinaloa and Sonora.
Benefits
In general, sesame has great nutritional contributions and benefits, so here are the most important ones:
It is rich in vegetable proteins: If you are a vegetarian and you are looking for a great source of protein or you cannot eat meat, you can use it in your daily diet to get this contribution.

Improves digestion: It is rich in fiber! It helps you improve the functioning of the intestine, eliminates toxins and of course, it is a good food against constipation.

Rich in calcium: It has more calcium than milk itself, which makes it recommended for the care of bones (osteoporosis) and teeth, an option for those who are lactose intolerant or vegetarians.

They are antioxidants: They contain vitamin E, the perfect ally against aging and, in addition, they are a great contribution to the immune system, preventing diseases.

It is good for the muscles, nerves and the brain: Since it contains magnesium, a mineral salt that helps in the proper functioning of the brain, fights stress, encourages muscle relaxation and supports mental health .

Reduces cholesterol: Thanks to its lecithin, it is very good for circulation and does not allow fat to adhere to the arteries, dissolving it. It is rich in Omega 3 and Omega 6, two favorable components for cardiovascular health.
Uses caramelized sesame seeds
Since you know how consuming sesame benefits your health, we want to give you some ideas, but now about caramelized sesame seeds in your recipes. Pay attention, take note and find out with us.
The first use is in salads, you can prepare them with bacon, Italian lettuce, panela cheese, nuts and tomato. You can also accompany a green salad with chicken, green peppers, tomato, lettuce and a touch of soy sauce.
The second use is in desserts, for example, you can prepare nougat or crowbars, energy bars, seed sweets, stuffed balls, pancakes, rice with fruit, nuggets, ice cream, cookies, shortbread and more.
Finally, there are several people who use candied sesame to create delicious gummichelas, frosting the glasses before serving the drink with chamoy and the sesame, while also adding some candies or gummies as decoration. Some others consume it as a snack, so it is important to emphasize that despite being a very nutritious seed, its consumption should be moderated to two tablespoons a day, due to its high energy level.
Undoubtedly, sesame with a sweet touch gives food and its preparation a special variant to give it sweet and super nutritious flavors.Keep an eye on our notes to learn about all the benefits that Don Zabor products provide in your daily diet and find out where you can buy them by entering the website
.