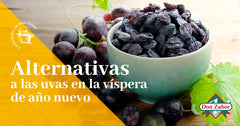 One of the best seasons of the year arrives and with it the oldest traditions too. From family gatherings to Christmas dinner, gifts and at the end of December, the New Year's celebration.
On that last day of December, there are an infinity of actions that some adopt as superstitions, from taking out suitcases, sweeping the house or wearing clothes of some color, but there are others who focus on the traditions of the count backwards, the grapes!
But if this year you want to give a different twist to this way of counting down to the new year or you are not such a fan of grapes, we have some alternatives to the end grapes of year.
A good way to close New Year's Eve dinner is with a light appetizer, such as dried cranberries. This food has few calories and also has antioxidants which help prevent cellular aging, it is also good for your eyes, since its properties help repair the nerve cells of the retina.
And lastly, if you have any reason to consider them, they also lower blood cholesterol levels.
Another dry fruit that can be the saving option and also healthy, are almonds. Get 12 almonds and put them in a glass or small glass container to have them on hand when the countdown begins.
When choosing them you should keep in mind that they are a great source of fiber, which makes them good for digestion, rich in protein, healthy fats, calcium, iron and phosphorus.
Raspberries
Another food that you can taste healthily and without problems with the 12 chimes are raspberries, since they have no skin and are delicately delicious to be a bite and a wish at the same time.
And well, if you have someone at home who can't eat sugar, this is a great option, because raspberries contain fiber that helps keep blood sugar stable.
Green olives
It's also worth using something more salty, in this case it could be olives, what do you think of the idea? What you should check before is that they do not have a bone, so that it does not interrupt your countdown.
Among its benefits when consuming them are: they help balance cholesterol levels, they are good for defenses thanks to their contribution of vitamins A and C and they also help your skin, thanks to the fact that they are rich in antioxidants and in vitamin E.
Following the line of salty foods, what do you think of peanuts? Without a doubt, its characteristic flavor and snack will make you feel good at the end of the year.
If you take this option to replace grapes, you should know that it helps prevent heart disease, improves the health of your brain and is a great source of energy, in case you had a tired day, you close the year with everything.
Don't forget that the less salt, the better.
Are you ready to celebrate New Year's Eve? With these options you will have everyone at the table happy and you will be sure to have a great time.
Plan ahead for the special evening and visit Walmart, H-E-B, Alsuper, laComer and CityClub to find the variety of Don Zabor products.