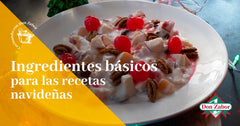 Almost the whole year we waited for the arrival of the holidays, from the posadas, the Christmas dinner and even the New Year's dinner, an opportunity to sit at the table with the family and taste the best Christmas recipes.
Before you get caught up in the rush, we want you to be well prepared for the challenge of Christmas meals and we have generated a list of basic ingredients that should be in your cupboard this month. So if you need something, you will already have it in your kitchen and you will be able to get out of trouble in each of the cravings of the season.
Are we ready? Let's go with the list of basic ingredients!
Walnuts
Just by mentioning them we know that it's the end of the year, and there really are an infinity of Christmas desserts and more dishes where walnuts are an essential ingredient to ensure how delicious they are.
For example, the walnut shortbread, it's not Christmas if there isn't any! An ideal dessert to pamper the little ones in the house as a dessert after dinner, you can also take advantage of the fact that you have already heated the oven and make them.
And you can't go without having them if you are going to make the traditional apple salad, since they are essential for this delicious recipe. Preferably get them peeled, as in the presentation of the 100-gram Don Zabor walnut, so you have more time for yourself and don't have to peel them.
Raisins
What dessert does not have raisins on these dates? Most do, and for this reason you should consider having your number of raisins well saved for your Christmas menu.
They are the best complement to prepare a delicious rice, salads, cakes, threads, hash, cookies, punch and much more. They always give a special touch to thousands of dishes that need a sweet tone.
Cinnamon
Whether in powder or in slices, you should not miss it in your December pantry, since it is an ingredient that we could say was born for these dates. It can be mixed with ginger to make delicious Christmas cookies or of course for the famous fruit punch.
It can also be used as a finishing touch on desserts, to sprinkle on cookies, turkey stuffing, cinnamon rolls or in a delicious cappuccino. Remember that at Don Zabor we have a 100-gram presentation, which you can take home on your visit to the supermarket.
Almonds
And without a doubt, almonds are the ideal complement in Christmas desserts, they cannot be missing in the preparation of shortbread, cookies, salads, sauces for turkey or meat and rice dishes. His exquisite touch gives each dish a Christmas flavor and reminds us of the deliciousness of the season.
Do you already have these ingredients ready? Prepare your list in time and make the most of this season to cook the best Mexican Christmas dinners using the top quality of Don Zabor products.