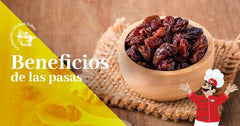 The properties of the raisins of grapes are many, so consider them in your daily diet is highly recommended. Therefore, we took on the task of gathering the benefits of eating raisins, so that you can learn more about this food that is used in sweet and salty recipes, in salads, desserts or as decoration on cakes.
Its origin goes back many years, in Ancient Greece, Hippocrates, who was a doctor, recommended it for medicinal use. It arrived in America on the voyages of Christopher Columbus and since then its uses have been so many that to date it continues to be important in the diet of millions of Mexicans.
After knowing a little about its origin and how it came to our lands, we are going to discover together a little more about the properties of raisins:
The most common of all and for what they are always recommended to us: they are good for constipation. Due to its high fiber content, it helps and favors intestinal transit. So it is a good option to prevent and treat it, so if you suffer from this, it can be a natural ally to avoid it.

They're also a great source of energy, so if you work out, this is for you. They have carbohydrates, providing the body with nutritional energy so that you can do the activities that you like the most.

It is a good diuretic, thanks to its potassium content it helps our body to function properly and eliminate liquids. In addition to this mineral also improves the functioning of the nervous system, which favors the heart rate. And finally, it is a great ally against hypertension, since it favors and regulates blood pressure, as well as the tension of blood vessels.

It contains magnesium, which is important for athletes who consider it, as it is beneficial for muscle health. Muscle, muscle and more muscle!

If you have diabetes, it's a good choice for candy temptations, as it has a naturally sweet taste and helps lower blood glucose by 23%.

To see better! That's right, another of the

benefits of eating raisins

is that they are antioxidants, so they protect the eyes from cellular aging and can delay the appearance of cataracts or other eye diseases.

Continuing with their antioxidant property, they not only help the cells of the eyes, but also those of the whole body, especially those of the skin, delaying the effects of aging.

And without a doubt, it is an excellent option as a snack, since it is a food that gives a feeling of satiety, so you can calm your hunger for a few minutes and avoid those extra meals or those outside your diet.
And we could go on and on, but we think these 8 benefits will convince you that raisins are good for your health in your daily diet.
Learn more about Don Zabor products on the website, as well as the self-service stores where you can get them. Very soon we will have delicious recipes with this ingredient!