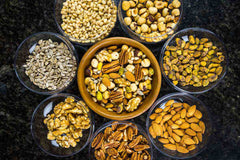 Learn about the history of one of the most important companies in the country
The first thing you should know about Don Zabor is that we are a 100% Mexican company with more than ten years in the market offering high quality and reliable products, always available to everyone for the benefit of the economy of Mexican families. , which places us in a privileged place in the taste of our customers for other brands.
Our history begins in the year 1990, when in one of the corridors of the central supply of Mexico City, the founding partner began with the sale of some dehydrated products such as garlic and jamaica. When he offered his clients the sale in plastic bags, he realized that this did not guarantee the freshness, cleanliness and quality of the products that he wanted to give.

Thanks to this discovery, he began the journey to provide adequate packaging and guarantee quality. He first experimented with the garlic, placing it in a food-grade plastic mesh, creating a positive response from his customers.

This was the beginning of a series of innovations, so he decided to start selling selected jamaica and packaged in heat-sealed packaging, which was also a success. With this, he started the idea of ​​starting to select and pack the products they marketed, with ever greater quality and demand. Until in 2000 he created his brand and Don Zabor was born.

What does the name mean?

First it is composed of "Don", something very popular in the local markets of Mexico, which in various places is taken as an expression of respect or social distinction with reference to merchants. And "Zabor" is what the products they sell give, it is used with "Z" to make a special badge that has a close relationship with the surname of our founding partner.

Growth

After the advances in packaging and sealing, our growth was rapid and two years later, we moved to the wholesale market, becoming one of the main exporters of garlic, an important fact that consolidated us as a brand to be explored in other markets. products.

In 2009, the company Don Zabor México S.A. was founded. of C.V. where we specialize in conditioning and packaging dehydrated products.







Quality

Our philosophy and thought has always been to improve every day thanks to the efforts of all the people who collaborate within our company with the mission of satisfying the need that people currently have for healthy food, with added value. and always at the best price.

How is this done? We have an SQF certification, (Safe Quality Food) which is a method to confirm the good quality of food products. Strict and rigorous programs on food safety are applied in this system, which helps us to generate reliable and safe products for consumption, thanks to this certification recognized both nationally and internationally and backed by the Global Food Safety Initiative (GFSI).

Our equipment is of the highest technology and the latest generation, we also have double-barrier packaging that prevents any type of contamination, except what needs perforation to breathe.

These certifications qualify us to generate reliable food products and thus satisfy all the tables of Mexican families today and companies such as Walmart, Superama, Bodega Aurrera, Sam's Club, City Club, H-E-B, Super San Francisco de Asís and more.

Every time you buy from us, you can rest assured that at Don Zabor we will always be on the lookout to preserve the food safety of the products we make available to you

We also give you the peace of mind knowing that we will always apply continuous improvement programs to remain a leader in the market. Thinking of our people, our clients and our world.

We have a wide variety of products that are part of the Mexican culinary culture, from the most basic to the most modern ingredients: chili peppers, snacks, grains, seeds and water. So that every time you think of cooking something delicious, you think of our brand to be the perfect complement in the preparation of your food. Look for us at your favorite self-service store!.

.