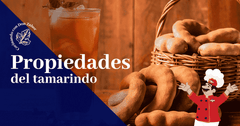 If every time you see tamarind when you make your purchases you rarely want it because you don't know how to prepare it, we have to convince you to add it to your list of ingredients for recipes and to add it to your consumptions in your day a day. And it is that despite being a traditional fruit, few are those who know what it contributes to meals and especially to health.
But as you know, we are to the rescue! And we will tell you everything you need to know about this ingredient that makes many dishes special and that can also be an incredible food when prepared alone. Remember that Don Zabor has tamarind presentations in 1 kilogram, 200 and 500 grams, put it in your cart on your next visit to the supermarket!
History
Its origins date back to India, later in the Middle Ages when it came to Europe to become known as an exotic fruit but with great properties. Although they tried to plant it on that continent, they were unable to make it grow because it needs the conditions of tropical climates. That is how it began to reach the African continent where it expanded and was received very well.
Some time later, it was the Spaniards who brought it to America in the Colony. Upon arrival in Mexico, the conditions of the tropical climate zones were taken advantage of and it quickly began to be successfully cultivated in the states that exist around the Pacific.
Thanks to this, towns such as Guerrero, Oaxaca and Michoacán became experts in its preparation and use for the dishes of the region.
Properties
Let's see the most important thing, the benefits, when you consume tamarind you get from this fruit a great supply of vitamins (B3, A and C), as well as phosphorus, sulfur, calcium and magnesium. Another quality it offers is that thanks to its amount of sugar, it provides energy to the body.
It is a good source of fiber, which helps the functions of the intestine and good digestion. In addition, it prevents dehydration, which is why it is a fruit recommended for areas with a lot of heat.
Medically, it is used by many in our country as a diuretic. In skin issues it is a good astringent and antiseptic. For those who suffer from liver diseases, fever, asthma or digestive problems, they use its branches, roots, seeds and fruit as a natural remedy to combat some of the symptoms.
How can you prepare it?
We come to the most versatile part of our note, since after discovering together its history and beneficial properties, it is the special moment to know in which dishes it can be used and its variants.
First and surely you already knew about the famous tamarind water, which is prepared by boiling it without shell. There are also other drinks based on this ingredient, such as tamarind atole, tamarind margaritas and even tamarind michelada.
The most common and representative form of our country is in the form of candy, which in many homes is the sustenance of the families that grow it. Many regions of the country are dedicated to its elaboration to which they add in some cases piquín chili, sugar or lemon. And one of its most spectacular variants is the tamarind sushi, a delicious snack for the family.
Getting into the topic of meats, you can make caramelized sauces for pork ribs, tamarind with white wine to prepare seafood or chicken glazed with tamarind.
How about using it in your recipes from now on? There are many options, so we invite you to keep an eye on our publications, as very soon we will tell you how to use it with the Don Zabor products in a recipe that will leave everyone speechless.