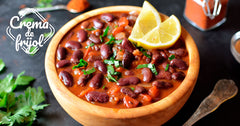 The divine triad of traditional Mexican gastronomy are chili, corn and beans. The consumption of these three traditional foods has been passed down from generation to generation and although new forms of preparation and consumption have been integrated, they continue to be the basis. Here we will share with you the delicious Chipotle Cream of Beans recipe that includes all three.
Let's start with the protagonist of this recipe, the bean. The Nahuas used to call it "ayocotl", later with the conquest the Spanish called it frisol (from the Catalan fesol) and then branched out to bean, as we currently call it.
This legume originates from Mesoamerica and South America, is grown as an annual crop and has numerous varieties that are grown in different parts of the world. Some of its varieties produced in Mexico are: Peruvian, yellow, sulfur, canary, butter, pinto, flor de mayo, bayo, canelo, rebocero, ayocote and black among others.
Our second ingredient that adds a touch and flavor to the cream of beans is the chipotle pepper, another element of this triad. This fresh chili is the famous jalapeño and dry it is known as chipotle, its heat level is medium and it provides that rich smoky flavor.
The third ingredient that accompanies this recipe is the corn with the fried tortillas. These in the same way are an ancestral part of Mexican cuisine. And basically almost no traditional dish can be conceived without some chili, beans, or tortillas.
Now we do share with you our star recipe for this classic Mexican dish, the delicious bean cream with chipotle, which is accompanied by a fried tortilla, cheese and avocado.
Ingredients
2 cups of black beans cooked with broth 1/8 onions

1 clove of garlic

1 sprig of epazote

1/2 cups sour cream

2 cups of cow's milk

2 chipotle peppers in adobo sauce

1 tablespoon olive oil

1 pinch of salt (or to taste)

1 cup of tortilla, fried in strips, to accompany

1 cup panela cheese, in cubes, to accompany
Preparation
Blend for approximately ten minutes: the beans, the onion, the garlic, the epazote (set aside two or three leaves to serve it), the cream and the chipotle, adding one by one to make the cream. Add a little milk if the consistency calls for it.
Heat the olive oil in a saucepan over medium heat, add the cream, season with salt and when it starts to boil, lower the heat to a simmer for about ten minutes.
Serve the cream and accompany with the fried tortilla, panela cheese, avocado and fresh epazote. Done, enjoy!
This simple recipe, both in its ingredients and in its preparation, returns us to our basic diet, connects us with our roots and with the local consumption of products of Mexican origin .
In addition, chili, beans and corn are ambassadors and representatives of Mexico in the world together or separately, they are a source of flavors, colors and textures that inspire an infinity of dishes and above all, they delight our palate . So if you haven't tried the bean cream with chipotle buy the Don Zabor ingredients in your favorite supermarket and start cooking.