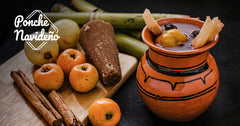 In this blog we had already told you about our traditional Christmas posadas and today we are going to share with you the house recipe to prepare this delicious drink that cannot be missing in your meetings this month.
Between Christmas carols, piñatas and gifts, a delicious Christmas punch cannot be missing at our parties and it is impossible for us to get rid of the cold this season if it is not with this drink that dates back to the Spanish colonization and that has continued with us to this day.
Its originss go back to India, where a hot tea called "Pac" was prepared, which means 5, since they were the number of ingredients that the drink contained: sugar, alcohol, tea, water and lemon. It was the sailors who, through their travels, spread its consumption throughout Europe.
This is how it spread throughout the world, where fruits were added depending on the country, such as poche a la romana in Chile or cream punch in Venezuela.
In Mexico it was around the 16th century when the punch recipe began to be prepared by adding fruits such as tejocote, guava, plum and apple, among others. Although the recipe has not changed much over time, each region has adapted a recipe with the fruits of the region.
In addition to being delicious to accompany all parties this Christmas, doctors recommend it for its high content of Vitamin A and C as well as potassium, iron and zinc.
Although the original recipe has a wide variety of ingredients, at Don Zabor, we have our mixture of Traditional Punch which has everything you need to prepare this delicious drink in just 4 steps. We invite you to visit our online store so you can learn more about this and all the variety of products with which you can prepare delicious recipes this season.
Ingredients:
Recipe:
1. Place the water in a large pot and heat over medium heat.
2. At the first boil, add the piloncillo and cinnamon. Heat for 10 min
3. Add a pack of Traditional Punch "Don Zabor"
4. Cook over low heat for about 1 hour.
Remember to serve it hot and in a clay cup, with this you will have the perfect Mexican Christmas punch.
We hope you enjoy your delicious punch in the company of your loved ones and friends, remember to share your experiences with us through our Facebook and Instagram pages to learn more about Don Zabor's products as well as many more recipes that you can prepare at home. Find all our products at any Walmart, Superama, Bodega Aurrera, H-E-B, laComer, Alsuper and at your nearest store.