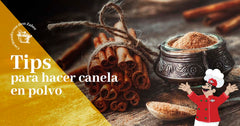 Sometimes it has surely happened to you that you are ready to prepare a delicious dish for everyone and you realize that you need to have a powdered ingredient on hand. If you have come across this situation more than once, then we want to prepare you to get out of trouble, in this case, we are going to teach you how to make your own ground cinnamon at home. Come on!
What do you need?
Elaboration:
Use as many cinnamon sticks as you like, put them on a plate and start separating and trying to break up the rolls as much as possible.

Heat a frying pan without oil and add the cinnamon that you just chopped. Let it roast little by little and be careful, stir constantly so it doesn't burn.

Transfer the cinnamon to the food processor and blend until the cinnamon is powdered.

You can stop from time to time to check if the cinnamon is crushed as it should or move the content a little so that it dissolves better.

Put the ground cinnamon in a spice container and store. Remember that it is important to cover it well so that it does not lose its freshness and smell.
It's that simple and in a few minutes! This way of making your own spices at home is very easy and accessible to everyone. Another option that we do not want to forget to tell you, if you do not have a food processor or blender at home, you can use a grater, like the one you use for vegetables. You just have to take the cinnamon sticks and grate them using the smallest holes of the grater, pass them one by one and put a container under it to have where the powder falls. This way certainly takes more time, but it can be an option if you only need a very small amount. And finally, one more option is to use a grinder with which some species are packaged, for example the pepper grinder, you can reuse it and do the same procedure to obtain ground cinnamon.
Part of the benefits of making your own cinnamon powder at home is that you take advantage of its freshness and smell for the dishes you prepare, and above all it is that you save a few pesos, you make sure that it is the most clean as possible and safe for your food.
Save this tip very well for our next recipes and don't forget that you can get the Don Zabor products in self-service stores: Walmart , H-E-B, La Comer, City Club and Alsuper.