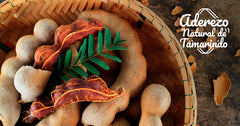 Dresses are the icing on the cake when it comes to accompanying salads and/or some dishes. Its function is to harmonize flavors and add the final touch to food. There is a wide range of commercial, artisanal and homemade dressings. Obviously the most recommended for your health are the natural ones prepared at home, so you will always know what they contain. In this post we share our star recipe for tamarind dressing.
No one denies how practical it is to buy a dressing from the supermarket as opposed to preparing a homemade one with natural ingredients, sometimes even, we don't have much idea how to prepare it or we think it's complicated. However, preparing a homemade dressing can be very easy, using good quality ingredients.
Natural dressings versus commercial dressings
Most commercial dressings contain high fructose corn syrup (HFCS), which is rich in sugar, unhealthy fat and sodium, as well as preservatives. In contrast, homemade dressings generally contain natural ingredients and are free of preservatives. In addition, it is usually simple and cheap to make, taking care of the ingredients and the nutritional balance.
As for consumption, dressings made from natural ingredients do not require as much calorie restriction, therefore, it is recommended to ideally consume 4 to 5 tablespoons for a salad, so that the leaves are well impregnated.
In natural dressings, it is recommended to prepare them based on oils such as: avocado, olive, coconut or flaxseed and/or vinegars.
The Tamarind
Tamarind is the central ingredient in this dressing. Let's start knowing a little more about its benefits. Tamarind is a fruit and comes from India; In fact, the word "tamarind" is of Arabic origin and means "date from India". With the conquest it came to Mexico and was popularized in many ways, mainly as a sweet, enchilado, in saucers and tamarind water, which is part of the famous trio of traditional waters along with horchata and jamaica.
Tamarind is a source of fiber and contains vitamins B, C and E. It also has laxative, diuretic, astringent, antipyretic and antiseptic properties. It contains important minerals such as calcium, iron, potassium, magnesium, zinc and phosphorus. And it is also a very cheap ingredient.
2 tablespoons of tamarind pulp without sugar

3 cloves of garlic, finely chopped

1 medium piece of ginger, minced

1 teaspoon of brown sugar

2 tablespoons balsamic vinegar
Preparation
Peel 200 grams of tamarinds and dissolve in 250 ml of water. Boil for 15 minutes, remove

bones with a teaspoon and strain to obtain the pulp.

Place olive oil in a pot and fry the finely chopped garlic

Add the previously crushed ginger (you can use a garlic crusher)

Add the tamarind

Mix until the sugar dissolves.

Incorporate the vinegar until emulsified.
Ready! you can add the dressing to your dish, salad or vegetables.We recommend serving it at mealtime.You can consume this dressing as a dip for crudités, with Arabic bread, with sautéed vegetables and salads. Don't hesitate to prepare it, it's delicious!
Visit our online store or look for Tamarindo Don Zabor in your nearest supermarket and prepare this delicacy.
.