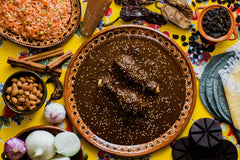 Here's how to do it:
If there is a very Mexican dish that has survived through the years, it is undoubtedly the mole. And it is that its origin comes from pre-Hispanic times with the Aztecs, although it was later perfected with the introduction of chocolate to the mix in an old convent in the Puebla region, according to legend.
Its popularity and versatility have been so great that there are around 50 different types of mole poblano in our country. The best thing about this dish is that for each region of the country, the way of preparing it is different, which makes it a Mexican delicacy worth replicating at home.
Now that we know a little about its history and tradition, do you want to know what you need?
Ingredients
8 Don Zabor wide chilies

8 Don Zabor mulatto peppers

8 Don Zabor pasilla peppers

2 Don Zabor chipotle peppers

1/2 onion

½ tablespoon ground pepper

4 cloves of garlic

1 tomato

1 anise star

1 cinnamon stick Don Zabor

⅓ cup of Don Zabor raisins

50 gr of Don Zabor almonds

100 gr of Don Zabor peanuts

½ cup of sesame seeds

1 tablespoon ground cloves

1 plantain

1 roll cut into pieces

2 tortillas

1 bar of table chocolate

2 tablespoons of lard

Chicken pieces to taste

Chicken broth

Salt to taste

1 tablespoon of Don Zabor piloncillo
Let's get ready!
Do you already have all the ingredients? Now let's go with the steps to follow:
We start with the Don Zabor ancho, mulatto and pasilla chili peppers, these must be already without veins, clean and without seeds, you must fry them in a pan with butter, taking care that they do not burn. Put aside to cook the tomato in water and leave it without skin.
At the same time you can cook the chicken pieces in a saucepan with water, onion, a clove of garlic and salt. Save the broth, as it will come in handy later.

Now you must fry the other ingredients separately in the same way with butter, starting with the peanut, sesame, almonds, 3 garlic cloves, then the onion, anise, cinnamon and raisins together. Put the almonds separately.
Now continue frying the tortillas and bread. And toast the sesame seeds until golden brown.
Use two cups of chicken broth in a deep pan, add to the table chocolate tablet with the tablespoon of ground cloves and ½ tablespoon of ground pepper, stir until the chocolate dissolves.
Now, put everything together in the blender and grind little by little, do it in parts if it doesn't fit in the glass. Also add the chicken broth to help liquefy and de-thicken.
In a large pot, add butter and fry the mixture. This is when you can check if there is a lack of salt, it is necessary to sweeten it with piloncillo or you need to improve the consistency.
This final part is a matter of taste, you can cook the pieces for a while in the mole or serve the cooked chicken pieces directly on a plate and cover generously with the mole. Accompany it with red rice and put a final touch with sesame seeds. If you have a considerable amount, save a part, let it cool and freeze for later.
What do you think of this recipe? In various versions of this mole, the ingredients change, some use peeled pumpkin seeds, coriander seeds or even more chilies, some with the intention of making it spicier, sweeter or to remove the acid, like all food, taste!
Without a doubt, it is one of the dishes that cannot be missing from the Mexican table when we celebrate something important or to vary the recipes of the week. Stay tuned for our delicious recipes that we will upload and remember that the Don Zabor products are of the highest quality and safety so that your dishes are always the sensation.
.