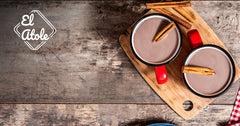 The days are colder; the houses are decorated with Christmas lights, trees and wreaths. What better than having a comforting recipe on hand to spend these dates?
Atole and its origins
We have already told you about the nixtamal, the process of cooking corn with lime before grinding it to make corn dough. The oldest traces of this date back to 1500 BC, so we can assume that the atole birth goes hand in hand. In pre-Hispanic times it was breakfast or even the only meal of the day for the indigenous people, and it was used for medicinal and ceremonial purposes.
Fray Bernardino de Sahagún recounts in his writings that the indigenous people sold hot and cold atoles; with ground or toasted corn dough, salty and sweet and even with chili and tomato. Little by little this preparation evolved, for example, since the Spanish disliked it in its traditional forms, they added cow's milk.
Currently
Despite the fact that during the years after the conquest, atole was considered a drink for the poor classes, while chocolate was the drink of choice for the upper classes, today atole reigns supreme in our diet; We know that it is a drink that gives us energy, and its flavor and uses depend on the area of ​​the country.
In the north of the country, the Pai Pai Indians prepare a hazelnut atole; in Michoacán, among its many varieties, they make an atole with wild blackberries, in Mexico City we know, among others, the chocolate atole, the white atole, which is the base of all, made with nixtamal, without sugar or other flavorings .
In Michoacán, for example, the Purépechas consider their preparation as a fundamental element that women must know to guarantee the stability of marriage and even, it is said, not to be returned to their parents' house. In this way, the atole is present as food for the woman who has just given birth, at wakes, baptisms, and at weddings.
Almond Delight
In addition to being delicious, this atole is very popular in the state of Coahuila, and it is super nutritious; You can find a lot of information about the benefits of this fruit in some previous notes.
They have a high content of antioxidants, vitamin E, healthy fats, among many other properties. Without further ado, we leave you here this traditional recipe and above all, very easy, especially now that we have online store (wink wink) because the best ingredients are just a click away.
Ingredients
1⁄2 liter of water plus 1⁄2 cup of water to dissolve the dough

1⁄2 liter of

almond milk

unsweetened (you can find

here a recipe

to make it)

slit of

cinnamon

1⁄2 cup of nixtamalized corn dough

1 1⁄2 cups almonds

3⁄4 cup of

piloncillo

(sugar can be substituted)

1 tablespoon ground cinnamon
Preparation
Heat the water with the cinnamon stick until it comes to a gentle boil.

While the water begins to boil, grind the almonds with the milk until they look very fine. Booking.

Dissolve the dough with the water; you can do it by hand and pass it through a strainer, or grind it with the water in the blender.

Add the dough to the boiling water and mix with a wooden spoon.

Let it boil for 5 minutes, without stopping to mix

Add the almond smoothie you made previously, the cinnamon powder and the brown sugar to the pot.

Let it simmer over low heat for 15 more minutes, mixing continuously and that's it, you can serve.
Notes
Remember that as it cools, the atole thickens, so you may want to add more milk or water once this has passed.

If you can't get corn dough you can use instant flour (like Maseca).

You can also add

walnut

to the preparation, or even replace it with the

almond.
If you prefer, you can remove the cinnamon stick from the water after it has boiled for about 5 minutes.

You can add more

piloncillo

or sugar for a sweeter atole.
Tell us what you thought of this recipe! You can find our products in stores such as Walmart, Superama, Bodega Aurrera, H-E-B, laComer, CityClub and Alsuper, and you can now order online! Also, find all our previous recipes and the best tips on our website.
.