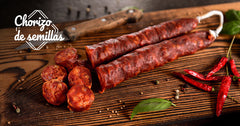 It may sound different or even strange, but we promise you that this chorizo, in addition to being healthy, is one of the richest that you will taste in your life –it is not an exaggeration!
Its origin dates back to the times when the Romans began to make
sausages; although the version we know and enjoy today was created in the Iberian Peninsula and eventually distributed throughout Latin America.
While Spanish chorizo ​​is made with pork or beef, its Mexican counterpart is made with pork meat and fat, as well as spices depending on the region. Although it can be said that the spices brought from our continent to Europe during the colonial era achieved a radical change in its cuisine.
As always, at Don Zabor we love to present you with healthy options for delicious meals and this is no exception. Here we leave you our recipe for seed chorizo.

Ingredients
● 1 cup shelled sunflower seeds
● 1⁄4 cup shelled pumpkin seeds
● 1⁄4 cup sesame or pumpkin seeds sesame
● 1⁄4 cup shelled almonds
● 6 guajillo chilies soaked in hot water and deveined
● 2 ancho chili peppers soaked in hot water and deveined
● 2 cloves of garlic
● 1 tablespoon white or apple cider vinegar
● 2 cups water
● 1 teaspoon paprika
● 1 teaspoon ground oregano
● 1⁄4 teaspoon ground cloves
● 1⁄ 4 teaspoons ground black pepper
● 1 cup cooked rice or grated cauliflower
● Salt to taste


Preparation
1. In a food processor or blender, mix well the sunflower seeds, pumpkin and sesame seeds, and the almonds until the consistency is almost
homogeneous and set aside; like traditional chorizo, it's quite nice
that it has texture. You can also let it grind all the way down if you
prefer.
2. Then, blend the previously soaked and deveined guajillo and ancho chiles, the garlic, the ground spices, the vinegar, salt, and water, until you have a well-integrated sauce. Reserve.
3. In a skillet over medium heat, add the sauce you made previously and the cup
of rice or grated cauliflower, and cook for about 5 minutes.
4. Add the seed mixture and stir well until everything is integrated.5. Serve on either a corn or flour tortilla and a little salsa (these are
our favorites), cilantro and a squeeze of lime.


TIPS

● Our suggestion for use is to enjoy it either in small cubes, as a filling for
pambazos, with potatoes, with your quesadillas, on top of your chilaquiles... Anyway,
there are many uses!
● Contrary to the traditional recipe, it is not necessary to "cure" the chorizo ​​or
stuff it; you can simply store it in a container and it will last up to 12
days refrigerated, or up to 2 months frozen.
● You can vary the seeds, using pecans, cashews,
peanuts, etc. always remembering that they must be peeled.
● This chorizo ​​is eaten without guilt during and after Easter, since it does not
contain much fat or animal products, it is a nutritious option for your
diet.
Tell us how you liked this recipe, and don't forget that you can order your
Don Zabor products at our online store or at any Walmart, Superama, Bodega
Aurrera, H-E-B, laComer and Alsuper.