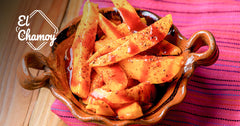 Some say it comes from China and others from Japan; Either way, this sauce is a Mexican tradition. Do you want to know how to prepare it at home?
Keep reading!
The Chinese version is made from a kind of apricot called Prunus Mume; In Japan, the closest thing to chamoy is Umeboshi, made with the same fruit that is cooked in pickle. This sauce actually originated in China, according to Rachel Laudan, a food historian who has traced the history of chamoy.
In this Asian country, apricot sauce is called See mui and is pronounced Seemoy; it is possible that the name comes from this word. The Chinese also brought this tradition to Hawaii, where a similar sauce is used to flavor different products.
Meanwhile, in Mexico we consume chamoy in an infinity of ways; to frost alcoholic beverages or prepare them, to accompany fruit or chips, for the refreshing jicaletas, raspados and of course in the delicious chamoyada.
We want to share with you one of our favorite recipes that is always at hand in our kitchen, especially in the summer.
Ingredients
1 1⁄2 cups dried apricots
1 cup of prune
1 1⁄2 cups hibiscus flower
1lt of water
1⁄2 cup sugar
1 tablespoon of salt
1/4 cups guajillo chili powder
1/4 cups of piquín chili powder
Juice from 1 orange
Juice of 3 lemons
Preparation
Boil the liter of water with the plum, apricot and hibiscus for 10 minutes or until the fruits are well hydrated and soft.

Blend the previous mixture and add a little of the cooking water.

Add sugar, salt, chili powder, orange and lemon juice and blend until integrate and obtain a thick but still liquid consistency.

Heat the mixture for about 3 more minutes over medium heat.

Remove from heat and let cool. Serve as you prefer.
Some tips for this recipe:
You can vary the amount of chili depending on how hot you like it.
If you can't find the chili powder, you can put them in the blender without seeds and stems until they are powdered.
You can also leave it on low heat longer if you prefer a thicker consistency.
If you don't have lemon on hand, you can use a couple of tablespoons of apple cider vinegar.
You can vary the chili by using, for example, ancho chili instead of guajillo chili.
Our favorite fruits to eat with chamoy (and that we recommend) are apple, mango, watermelon, jicama and cucumber.

You can also add fruits like

blueberries

to your mix, including them in

step 1.
Remember that you can find many of the ingredients for our recipes in our online store, and also in any Walmart, Superama, Bodega Aurrera, H-E-B, laComer and Alsuper.