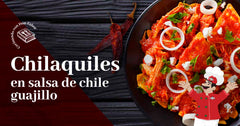 If you're tired of the same old chilaquiles and looking to vary the recipe a bit before you stop loving them, you've come to the right place! Fortunately, this delicious dish can be made in a variety of sauces to satisfy the taste of all its fans in Mexico.
As you already know, there are already the famous red chilaquiles or the traditional green ones, but can you imagine cooking them in a chili sauce guajillo? If the idea had not crossed your mind, they already exist! And boy, are they delicious, that's why we want to share with you this simple recipe on how to make chilaquiles with this rich sauce. Do you think you have everything at hand? Check first what you need to prepare them.
Ingredients:
1 clove of garlic

6 tomatoes

3 bowls of fried tortilla chips

¼ onion

2 Eggs

200 grams of grated panela cheese

1 sprig of epazote

1 can of bay beans

Oil

2 cups of water

Salt
Preparation:
Prepare the chiles, you will have to cut them in half, remove the seeds and the veins. If you are interested in them being a little more spicy, leave some veins. Now, put in a pot with water to boil the tomatoes with the chilies, the onion and the garlic. As soon as you see that the tomato begins to peel and the water turns a reddish color, they are already cooked.

Remove them from the pot and put the ingredients in the blender, blend well until the mixture is homogeneous. If you find that flavor is lacking, add salt.

Prepare a pot with a little oil, empty the mixture from the blender with a strainer and keep stirring until only the remains remain. Add the 2 cups of water, the epazote, salt to taste and cook over low heat for about 5 minutes.

When the sauce boils, turn off the heat and add the tortilla chips to the sauce and depending on how you like them: watery or not so watery, remove them. Put a little oil in a pan for the fried eggs that will accompany your breakfast, you can also make your

chilaquiles with chicken

.

Before putting the fried eggs on top of the chilaquiles, add the grated cheese and cream. And ready! Call everyone to breakfast.
As you can see, it is a simple recipe to make guajillo chili sauce for chilaquiles that will not take you more than half an hour to make, it could even be less. Enough time to not get up so early if it's for breakfast or to treat yourself to food with this amazing taste.
And in addition to that, for those who are not so fanatical about chili but want to be encouraged to enjoy this dish, the chile guajillo is not so hot, so there is no excuse for those who can't stand the "spicy" levels of some sauces.
We almost forgot, but no, remember that apart from eggs or chicken, you can accompany them with refried beans, either bay or black. They really get along very well and are an excellent mix to leave everyone at the table satisfied.
Save our recipe! Don't miss the opportunity to pamper everyone with the delicious flavor of guajillo peppers Don Zabor and remember that you can get them at Walmart, H-E-B, La Comer, City Club and alsuper.