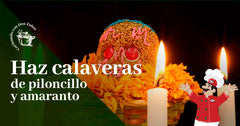 An important and traditional element in the Day of the Dead altars are the skulls, they always accompany the bread of the dead, seasonal fruit, cempasuchil flowers and the chopped paper that adorns it. Its meaning is very important as part of the offering, since it represents death and the passage to the other world.
Many personalize them and take them to work or home and give them away as a gift for the season. The most common elaboration of the skulls is the one made with sugar, lemon, chautle and egg white.
This time we want to propose a way to make skulls at home, with a very simple recipe but one that you will love and repeat year after year. So, get everything ready to cook!
Ingredients:
4 cups of water

300 grams natural amaranth

2 cones of

Don Zabor piloncillo

Skull molds

Butter or vegetable oil to grease

½ tablespoon of white vinegar
Preparation:
In a large saucepan, put the water with the piloncillo over a low heat, bring to a boil and stir constantly to check that it forms a honey-like consistency. When it's almost ready, add the white vinegar.

Once it is ready, remove from the heat and let it cool for a few minutes, add the amaranth and mix very well so that both ingredients are integrated. Make sure it's not too hot so you don't burn yourself.

Grease the skull molds with vegetable oil or butter.

Fill the molds with the mixture we made and let them harden for approximately 15 minutes (you can leave them longer, up to 1 hour). If you want to make many pieces, we recommend having several molds so that it can be faster.

You can also use ties or rubber bands to hold the molds together so they don't open.

You can give them a final touch by decorating with candied candies such as lunettes, peanuts and whatever comes to mind. You can also add a person's name or the date.
It really does not take much time to prepare, what can take more minutes is the cooling time so that the mold opens at the right time and has a consistent shape, remember to squeeze the molds well so that this works. Note that if the mixture gets too cold and hard to handle, you can put it back on low heat to make it moldable again.
If you want to add a little more decoration, create a glaze with sugar, shortening, water and food coloring. Prepare it in a blender mixing all the ingredients until they are well integrated. At the end add the food coloring of your choice and that's it.
These skulls are an alternative option to the traditional sugar ones, if you want to take care of everyone's diet at home, they work very well and are delicious. I hope you are encouraged to make them to decorate your altar with this very creative and healthy option.
All Don Zabor products can be found in the best self-service stores in the country: Walmart, H-E-B, La Comer, CityClub and To the supermarket. See you in the next recipe!