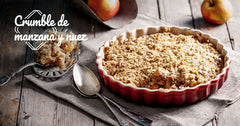 Dessert is enjoyed in all Mexican homes, and Don Zabor is no exception. We share this delicacy of British origin for you to enjoy on these hot days accompanied by your favorite ice cream.
My mom always told me that my grandfather never let them finish a meal without something sweet; even when money was tight, even if it was a piece of piloncillo, there was dessert for everyone at home.
This is how at Don Zabor we have a predilection for ending meals with a dessert, and this time we want to tell you about the crumble, which was born during the Second World War as a replacement for more elaborate (and expensive) pies and cakes ), although it was not until 1924 that it was officially recognized, since until then there was no printed recipe.
In addition to being something that makes your mouth water just thinking about it (the sweetness and acidity of the apple, the caramel that forms with the sugar, the crunchiness of the crumble with nuts and the freshness and sweetness of a good ice cream), is quite nutritious. We want to give special credit to the walnuts in this recipe, because as we told you before, they have many benefits.
Apple and walnut crumble
Ingredients
For the padding:
8 slightly tart and sweet apples (such as Granny Smith and Honey Crisp)
Juice of 1 lemon (about two tbsp.)
2⁄3 cup coconut or muscovado sugar
1 1⁄2 tsp. powdered cinnamon
3 tbsp. cornstarch
1⁄4 cup fresh apple juice
3⁄4 tsp. grated fresh ginger or 1⁄2 tsp. powdered ginger
1 pinch of nutmeg
For the topping:
1 cup of oatmeal

1⁄2 cup almond flour (you can find

our recipe here

).

1⁄2 cup of wheat flour
1⁄2 cup coconut sugar (muscovado can be substituted)
1⁄2 cup raw sugar
1⁄2 cup pecans (coarsely chopped)
1⁄4 tsp. of sea salt
1 tsp. ground cinnamon
1⁄2 cup coconut oil or olive oil (or mix the two 1⁄2 and 1⁄2)
Preparation
Preheat the oven to 175oC.

Peel the apples, cut them into quarters, remove the cores and cut into thin wedges.

Add the apple to a large bowl and top with the other stuffing ingredients. Mix well until they are all combined and place this mixture in a baking pan.

In a clean bowl, add all the topping ingredients and stir until combined well; Using your fingers, break up any lumps that have formed. Pour over the apples in an even layer.

Bake for 50 minutes to 1 hour (uncovered) or until filling is bubbly, apples are tender (especially in center of dish) and the topping is golden brown.

Let cool for at least 30 minutes before serving. Our suggestion is to accompany your crumble with coconut or vanilla ice cream.
If you make this recipe, let us know how it turned out on social media. Don't forget to order your nuts at our online Don Zabor store or at any Walmart, Superama, Bodega Aurrera, H-E-B, laComer and Alsuper.