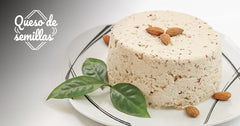 This March 20th we celebrate a day to raise awareness for animals; World Meat Free Day aims to educate and inspire people to eat a plant-based diet.
There are many prejudices about vegan diets; mainly that they are not nutritious or filling enough, and today we want to verify that this is not the case; To celebrate World Meat Free Day we want to invite you to taste two easy, nutritious and delicious recipes free of animal products.
This day was originally known as the Great American Meatout, which began in 1985 to promote an ethical, cruelty-free and non-violent diet to promote a healthier lifestyle, care for the environment and animals. Do you join the challenge?
The recipes
Seed cheese
Ingredients

150gr of almonds
Juice of 1 lemon
1 tsp. powdered white pepper
1 tsp. garlic powder
3 tbsp. of nutritional yeast
1 tsp. of salt
1 1⁄3 tbsp. of agar agar.
400ml water
1 tsp. olive oil
Preparation
Boil the almonds for a minute and remove the skin. You can also soak them in hot water overnight.

Add the almonds, lemon juice, pepper, nutritional yeast, garlic and salt to the blender and blend until smooth.

Add the water and agar agar to a saucepan over medium heat and stir for about three minutes or until it begins to thicken.
Add the previous mixture to the ground almonds from step 2 and blend again until well incorporated.

In a mold previously greased with a little vegetable oil, place the mixture and wait for it to temper; once it reaches room temperature, put it in the fridge and wait a couple of hours for it to set.

You can unmold or split and serve the cheese directly from the mold
Jamaican Tinga
Ingredients
2 1⁄2 cups hibiscus flower
3 1⁄2 cups of water
1 large onion
3 cloves of garlic
3 tomatoes
2 carrots
2 chipotle peppers in adobo sauce
1⁄4 tsp. of cumin
1⁄2 tsp. of sea salt
Preparation
Boil the jamaica for about 30 minutes until it is hydrated and soft. Remove from the heat, strain, squeezing the jamaica well and reserve the water.

Cut the onion in half; Roast one half with the tomatoes and 2 cloves of garlic in a comal.

Slice the rest of the onion, finely chop the garlic and grate the carrot; sauté these starting with the onion. After about three minutes or until translucent, add the garlic and carrot for about five minutes.

Add the jamaica and stir constantly for about ten minutes.

Blend the roasted tomatoes, onion and garlic with the chipotle peppers, cumin and salt.

Add the sauce to the stew and cook for another 10 minutes, stirring well.

Serve on toast with refried beans or vegetable cream.
In addition to being super easy recipes, they are so delicious that you will completely forget that they do not contain any animal products. Remember that you can buy your products in advance in our online store.
If you make these recipes, upload your photo and tag us on social networks, and remember that you can find the best quality Don Zabor products at any Walmart, Superama, Bodega Aurrera, H-E-B, laComer and Alsuper
.