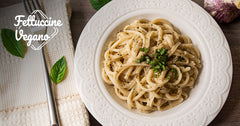 In an increasingly vegan world, plant-based recipes have become essential in all restaurants and gatherings with family and friends; That is why we bring you this very easy and delicious recipe.
Whether you are vegan or not, this pasta is so rich and appetizing that you will want to repeat it more than once. In addition, you will really be surprised at how easy and fast it is ready, not without first mentioning all the benefits that a plant-based diet brings. In the case of this recipe, replacing the egg, butter, cream, and cheese cuts down on saturated fat and reduces the risk of breast, ovarian, and prostate cancer.
Also, our star ingredient, the Cashnut has endless benefits:
The monounsaturated and polyunsaturated fatty acids found in cashews may help lower LDL cholesterol and triglyceride levels. This reduces the risk of cardiovascular diseases, strokes and heart attacks.

They are a good source of magnesium, which plays an important role in more than 300 enzymatic reactions within the body. Magnesium is also involved in muscle relaxation and neuromuscular transmission and activity.

Cashnuts are one of the few food sources that are high in copper. One ounce of these nuts contains 622 micrograms of copper. For adults over 19 years of age, the recommended daily intake of copper is 900 micrograms.

They are an excellent source of protein and vitamins C and B, including 7 micrograms (mcg) of DFE folate.
A healthy dish
In addition to the aforementioned benefits of cashews, the other ingredients contribute to the flavor and nutrient richness of this recipe. Cauliflower, for example, in addition to giving body to the sauce, is rich in fiber, potassium, calcium, and vitamin C. Garlic has cardioprotective, anticancer, anti-inflammatory, immunomodulatory, antidiabetic, and antibacterial qualities, among others.

Here we share the recipe for this vegan pasta that anyone will love.
Ingredients
400gr dry fettuccine pasta
4 cloves of garlic
1 small cauliflower (no more than 1kg, should fill 6 cups at most)
4 tablespoons of olive oil

1 cup of

Cashnuts

2 cups of vegetable broth
1⁄8 teaspoon onion powder
1 pinch of ground black pepper
1 pinch of nutmeg
1 teaspoon of sea salt for the sauce
1 tablespoon of sea salt for the pasta
Parsley finely chopped, to serve
Preparation
Chop garlic and cauliflower into small pieces; they don't have to be perfect.

Bring a large pot of water to a boil. Once it comes to a boil, add the pasta and salt and cook for about 12 minutes or until al dente (taste after about 8 minutes to check for firmness, ideally tender but still slightly firm inside). Drain the pasta and return it to the pot.

Heat the olive oil in a pot with a lid over medium heat. Add the cauliflower and walnuts and sauté for about 4 minutes or until both are lightly browned. Add the garlic and cook for 1 to 2 minutes until the smell is released.Add vegetable broth, onion powder, black pepper, nutmeg, and 1⁄2 teaspoon sea salt. Cover pot and cook mixture over medium-high heat for 6 to 7 minutes until cauliflower is tender .

Empty the above mixture into the blender and add the remaining 1⁄2 teaspoon of salt and an additional 1⁄4 teaspoon of black pepper. Blend until a smooth sauce forms.

Serve the sauce over the pasta, top with finely chopped parsley and voila: your fettuccine Alfredo will be just right.
Tell us on social networks how this paste turned out for you, and remember that you can find your Don Zabor cashews in our online store or at any Walmart, Superama, Bodega Aurrera, H-E-B, laComer and Alsuper.
.