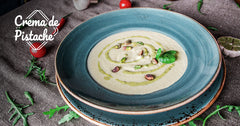 Like every year the weather is crazy and that is why we prefer to prepare broths or creams for those days where the sun hides most of the day. This time we share the recipe for the pistachio cream because in addition to being delicious it is super nutritious.
The history of this dried fruit dates back to the 6th century BC. C. where the Persians already consumed this product, spreading to Spain and all of Europe during the Middle Ages. Due to the heyday of different crops such as cereals or olive trees, the pistachio plantation remained adrift until later years. In Mexico it is harvested in states such as Tamaulipas, Chihuahua, Coahuila and Veracruz.
Among the many benefits that pistachios provide us, we find that they protect us from sight due to the lutein and carotenoids it contains, making us less prone to vision loss and cataracts. Its high fiber content helps us with digestion and controls our sugar levels as well as providing us with all the energy necessary for our activities.
The pistachio is used in desserts and salads, being a nutritious snack between meals. We share our recipe for pistachio cream hoping you enjoy it.
Ingredients:
1/2 onion
200 gr of parsley
100 g chives
100 gr pore
1⁄4 cup of wheat flour1⁄2 stick of butter
1⁄2 cup of white wine
1 cup whipping cream

500 gr package

peeled pistachio

"

Don Zabor

"

1.5 liter of water
1 chicken bouillon cube
Salt and pepper to taste
Preparation:
Finely chop the chives, the leek and the onion

Add them to a pot with and add the butter and fry them

Add the wheat flour and leave them for a couple of minutes over medium heat until they brown

Add the water and add the chicken bouillon cube

Add the pistachios and cook over low heat until everything is perfectly cooked

Separate the vegetables and grind them in a blender

Incorporate all the ingredients in a saucepan

Add the white wine to the saucepan, heat the cream a little and combine it with the cream

Heat over low heat until everything is incorporated

Serve and add some pistachio and chopped parsley on top
What did you think of this recipe? Remember to send us your comments to contacto@donzabor.mx and don't forget to visit us at our online store to learn about and order the products to make your favorite recipes. Find all our products at any Walmart, Superama, Bodega Aurrera, H-E-B, laComer, Alsuper and at your nearest store.