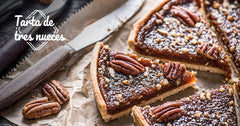 It is already known that at Don Zabor we love recipes that bring us nostalgia; of those flavors that remind us of the meals or desserts that our grandmothers, our moms and dads made. This recipe is no slouch.
It is so versatile that it goes perfect in winter with a hot chocolate or in summer with vanilla ice cream on top. However you prefer it, it is the ideal cake to pamper yourself or to impress friends and family with how delicious it is.
Note that this is not a pie; it's a tart and it should be thin, with a crunchy base and deliciously chewy filling, in the best possible way. Chocolaty, honey flavored, comforting. The perfect dessert.
Plus, it comes with perks
Let's remember that in addition to tasting delicious, the recipes we prepare at Don Zabor are nutritious and this is no exception. Let's look at some of the benefits of our ingredients:
Chocolate
Helps lower cholesterol levels, prevent cognitive decline and reduce the risk of cardiovascular problems.
Walnut
It has anti-inflammatory and antioxidant properties and is antimicrobial and bactericidal.
Almond
They serve to gain muscle mass, recharge energy and, according to studies, help you stay young.
Peanut
It is a source of protein and folic acid, favors the nervous and peripheral systems, and promotes weight loss.
These are just some of the many benefits of this preparation, so enjoy it without guilt and knowing that it is good for your health.
Ingredients
1 9" pie crust
1⁄2 cup of melted dark chocolate
115g unsalted butter
1⁄2 cup of honey
2 tablespoons whipping cream
1⁄2 cup brown sugar
1⁄2 teaspoon vanilla
3 cups of previously chopped walnuts, hazelnuts and peanuts (approximately 750gr)
1 tablespoon orange zest
Preparation
Preheat the oven to 175o C. Pre-bake the tart base for 10-15 minutes or until lightly golden.

While the bottom of the pie is baking, prepare the filling. In a medium saucepan, add the butter, honey, cream and brown sugar to a boil, about 3 minutes, stirring constantly.

Remove from the heat and add the walnuts, orange zest and vanilla.

Once it's golden brown, remove the tart crust from the oven and allow to cool slightly.

Melt the chocolate in a bain-marie and spread the bottom of the base with a thin layer of melted chocolate. Reserve a part to decorate.

Pour the walnut mixture into the base of the tart and bake for 20 minutes at 175oC.

Let cool completely. Decorate with the remaining chocolate and voila. To enjoy!
If you made this recipe, leave us a review on Facebook or Instagram, and share it with your favorite people! Find the best quality Don Zabor ingredients online or at any Walmart, Superama, Bodega Aurrera, H-E-B, laComer and Alsuper.