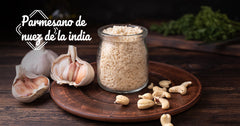 If you're looking for vegan alternatives to cheese, this Parmesan is a delicious option that will leave you amazed at how easy it is. You want to know more? Read on!
This is one of those recipes that we don't like to call recipes for the simple
fact that they are so simple that it takes almost no effort or time to make them. On top of that, its base ingredient, cashews, are incredibly nutritious, delicious and versatile.
This vegan cheese is as tasty as the real deal it deserves to be in your favorite dishes, so if you're craving a paste , a salad, a pesto or especially if you have lactose intolerance or a diet free of animal products, and you miss a good Parmesan cheese, this is your moment.


Benefits of this nut
Rich in protein, healthy fats, and antioxidants like polyphenols, the cashew offers a variety of notable health benefits. We share some:
● Reduced cholesterol
● Prevention of heart disease
● Prevention of stroke
● Prevention or control of diabetes
Also, they are an excellent source of:
● Magnesium
● Manganese
● Phosphorus
● Zinc
● Vitamin B6
● Vitamin K

Tips

Whether you use a blender or food processor, make sure it is completely dry before adding ingredients to ensure no lumps and the cheese is as smooth as regular Parmesan.
At Don Zabor we like to use cashews or walnuts India for this recipe because they have a neutral flavor and are the same color as a Parmesan, but you can also use almonds or even sunflower seeds for a nut-free option.
This Parmesan lasts in the refrigerator in an airtight container for about 2 weeks. If you're new to plant-based eating, nutritional yeast is a type of dormant yeast that adds a delicious, umami-rich cheese flavor to vegan dishes and is an excellent source of B vitamins, including B- 12.

Ingredients
● 150 g cashews
● 1⁄4 teaspoon garlic powder
● 4 tablespoons nutritional yeast
● 1⁄2 teaspoon salt

Preparation
1. Process all ingredients in a food processor or blender
on high speed until blended. The cashews should
be fairly processed, but not quite powdery.
2. Store in an airtight container in the refrigerator for up to two weeks
and sprinkle over your favorite dishes.

If you made this recipe, let us know how it turned out on social media. Don't forget to order your walnuts at our Don Zabor online store or at any Walmart,
Superama, Bodega Aurrera, laComer and Alsuper.