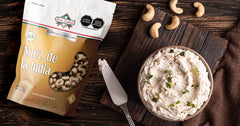 Have you tried this delicious alternative to cow's cream? This easy-to-prepare vegetable option has won our hearts; either in our chilaquiles, with strawberries, or in any Mexican dish that has cream, it is an ideal topping.
In these times we are all very aware that we must lead a healthy life, starting with what we eat, because although we would love to enjoy our favorite foods without consequences or regrets, these foods are usually the least healthy .
Cream is no exception, as it goes well with all kinds of dishes and desserts, but we cannot ignore the amount of fat it contains, especially the amount that we usually use to accompany these dishes. And it is that although with the existence of tools with the air fryer, the use of oils has become less, it is not the same to enjoy some sopecitos or some chilaquiles without cream than with a healthy version of it.
The simplest recipe
Normally they are prepared with some seed or nut; in this case, we bring you a version that you can prepare with almonds or indian nuts, and the result will be a soft cream, with only four basic ingredients and that will become in one of your favorite ingredients.
If you want to enjoy traditional Mexican dishes in a healthy way and even impress your family with the flavor of this recipe, we invite you to prepare it:
Ingredients
1⁄2 cup

almonds

or raw cashews

1⁄4-1⁄2cupofwater
1⁄4 cup unsweetened almond milk
1 tablespoon fresh lemon juice
1 clove of garlic (optional)
Salt and white pepper powder to taste
Bring the water to a boil in a small pot and pour over the almonds.

Let them sit overnight at room temperature.

The next day, peel the almonds. The skin should come off easily.

Place almonds, garlic, almond milk, 1⁄4 cup water, and lemon juice in blender and blend until smooth.

If it's too thick, add the remaining 1⁄4 cup of water.

Season to taste with salt and pepper.
Notes
If you want to use the cream for a dessert or sweet dish, our suggestion is to change the salt and pepper for sugar.
Almond milk can be replaced by vegetable oil.
You can also skip the garlic in this recipe, especially if you use the cream in a sweet recipe.
We suggest refrigerating it and consuming it within a week of preparation.
Do you like the idea of ​​making your own healthy cream? If you make it, share it on social media and don't forget to tag us. Remember that you can find Don Zabor or at any Walmart, Superama, Bodega Aurrera, mlaComer and Alsuper.