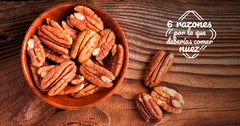 Surely you have already heard about the benefits of walnuts, but are they really as good as they say?... Let's review some of the benefits of this incredible food.
The walnut is the fruit of the walnut tree and becomes edible only until it ripens between the months of September and November. Since the skin cracks and has a dark color then they are ready for consumption. At this point you just have to move the walnut so that all the nuts fall, start the harvest and start the drying process that takes about 36 hours.
With a soft aroma and sweet flavor, the walnut is the perfect ingredient to prepare desserts, sweets or accompany some of our favorite dishes such as chili en nogada; If you want to know more about how to prepare it and some tips, visit our website. Here we leave the link.
In addition to being the perfect ingredient for your dishes, the walnut has more benefits than you imagine, here we share the most important ones ...
1.They take care of your brain and your heart.
According to studies by the New England Journal of Medicine, eating 15 grams of walnut per day can dramatically prevent heart attacks and strokes thanks to all the nutrients it gives us. They are even healthier than giving up meat or reducing fat intake.
2.- Provides vitamins B and E to your body.
These vitamins support the proper functioning of the nervous system, help improve metabolism and improve blood quality. They will help you have smoother skin and strengthen hair, as well as prevent diseases such as Alzheimer's.
3. They are always a good snack.
Nutritionists recommend them to us in case we get hungry due to their high content of unsaturated fats. According to studies, the consumption of the nut will help you control your weight, satisfy your appetite and control your anxiety between your meals.
4.- They are rich in Fiber
Including the walnut in our diet will help us avoid constipation since it has magnesium which helps us with intestinal transit . Consuming them regularly will help you feel lighter in your daily activities.
5.- They help to fall asleep.
If you're one of those people who tosses and turns at night, adding a little nut to your dinner will help you sleep. Vitamin B6 and the tryptophan present in it promote muscle relaxation in addition to reducing the risk of anxiety, depression and stress.
6.-They reduce cholesterol in the blood.
Eating a small bag of walnuts a day reduces cholesterol and triglyceride levels in the body by about 7% according to Loma Linda University research in California. Its regular consumption blocks absorption at the intestinal level and improves oxygen levels in the blood.
So, if you want to lead a healthier life, prevent diseases and eat delicious food, the walnut is your best option.
Do you want to include more nuts in your kitchen? Tell us what recipe you would like us to post on our website and remember to visit us on our Facebook and Instagram pages to learn more about all Don Zabor products. Find the nut and all our products at any Walmart, Superama, Bodega Aurrera, H-E-B, laComer, CityClub, Alsuper and at your nearest store.