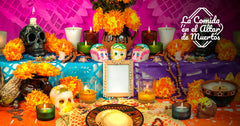 What are the dishes you put on your altar? What food do you prepare for your dead to come and taste? These are the most popular dishes for that night, and with good reason, since they are the favorite dishes of any Mexican.
Lots of color; the processions, the candles, the old photos, the aroma of mole, at night and at the party; tequila or pulque ready in a small glass. The family together, with hot chocolate and bread of the dead to share. This is what a night of the dead feels like.
A pre-Hispanic tradition
In Mexico, the Day of the Dead was declared Intangible Cultural Heritage of Humanity since 2008; Every November 1st and 2nd, the indigenous peoples and the different communities, make the Vigil in the cemeteries, taking with them cempasúchil flowers, candles and offerings for their deceased.
Although this celebration is much older, it was adapted after the arrival of the Spanish and brought together different religious traditions of Europeans with the practices and rituals carried out by indigenous people since pre-Hispanic times.
It is not a solemn or sad date; life is celebrated. We guide the souls on the right path, we meet with our ancestors, and we do it in full color. From the papel picado to the catrina costumes, the festival welcomes souls to spend time with their loved ones once a year.

It is a Mexican tradition to set up an offering at home, at school or at work, as well as in public spaces – who has not seen a street covered in altars, skulls, millions of petals of different flowers forming images ? And not only that, but each one dedicates his altar to his deceased relatives.

Altars are personal

We all know that altars have certain elements that yes or yes they should have:
cempasuchil flower
Candy skulls
Arches
Bread of the Dead
Confetti
Water
Fruit
Food
Salt
Candles
However, in addition to these, we must always take into account the tastes of the dead whom we welcome. What were your hobbies? Your preferences? In the infinity of altars that are set up during these days we can find everything from guitars, jaranas or other musical instruments to tobacco, toys, even shotguns or pistols.

And most importantly: the food.

The bread of the dead is essential, of course; but, what are our other favorite dishes for this date? In short, each house has different recipes, seasoning and preferences, but there will always be those flavors of certain dishes that make us feel at home, dead or alive.

It is common on this date to prepare a spectacular mole, tamales, or other Mexican delicacies to entertain our dead. Always taking into account what his favorite dishes were in life, of course. The pozole is another one that cannot be missed: empanadas or pumpkin candy always crown the table, and atole, chocolate in water or milk and whatever the deceased's favorite drink should be present.
Another element that embellishes the altars and guides the souls on their way, are the seeds. Whether to form the cross that must go on the last of the 7 steps or levels that make up an altar, or to show off a rug at the foot of it, the seeds should not be missing.

What elements do you include in your offering? Tag Don Zabor if you use any of our products in it, we want to celebrate with you! You can find our seeds, chiles and other ideal products for your altar at any Walmart, Superama, Bodega Aurrera, H-E-B, laComer, CityClub and Alsuper
.