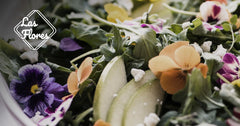 If you are one of those people who love food and are a culinary explorer, surely you have already tried everything from the spiciest dishes to the most exotic insects, flowers cannot be missing from your tasting experience. In this post we will tell you about flowers and their uses in Mexican cuisine.
Mexican gastronomy is known worldwide for its flavors, for the mixture of ingredients, for the culture of corn, beans, and chile and not least, for the explosion of colors.
Like all living elements, Mexican cuisine has evolved incorporating new elements, one that has gained special relevance in recent years are flowers. Probably the classic dishes with pumpkin flowers or with the iconic jamaica come to mind, however, there is a wide variety that are edible.
Some researchers point out that there are about 186 edible flowers, of which 80% originate in Mexico. Some of the flowers that have culinary uses are: lavender, bougainvillea, roses, pansies, geranium, may flower, chamomile, cempasuchil and bunting flower, among many others.

It has also become a trend to grow organic flowers in small urban gardens and even some restaurants that follow this trend have their own flower garden.

The preparation of flowers in Mexican cuisine is very varied, ranging from fried, weathered, stuffed flowers, in sauces, in lemonades, in salads, desserts and of course in tacos and quesadillas.
But In addition to the flavor and aroma that flowers add to dishes and beverages, its most prominent use is as a decorative element, providing beauty, color, delicacy and harmony.

Almost everything is used from the flowers, depending on the dish or drink. Normally the stem, the bud, the petals and even the entire flower are used.

Perhaps you are wondering what the flowers taste like, naturally it depends on which one, however, in general we can tell you that the flavors range from acid, minty, spicy notes to fruity and sweet ones.

Here we tell you about three flowers of Mexican gastronomy and their uses:

Refreshing drink with bougainvillea

The bougainvillea is a very common flower in the warm areas of Mexico. Its characteristic fuchsia, white or variegated flowers also have properties that improve the functioning of the respiratory system. a delicious way to try them is in lemonade that is prepared as an infusion with the flowers, add lemon and sweeten. In addition to the incredible color, it will have a sweet and tangy flavor. It's a delight!
The flower of jamaica Although it is believed that it comes from tropical Africa, it arrived in Mexico with the conquest and here we adopt it to the point of be a very popular ingredient in Mexican cuisine. The flowers of hibiscus are usually prepared fried, in salads and of course in tacos. To prepare the tacos, simply sauté them with onion and put them in the taco, always adding other vegetables of your choice.
Salads with pansies
Pansies are found in various colors of purple, white, and yellow. Its flavor is sweet, with sweet and sour notes and a mild flavor. It goes very well in salads and to accompany cheese boards.In any salad of your choice, you can add pansies, which have an ornamental use, although they are obviously edible. On the other hand, as Chef Mónica Patiño says "the flowers are the last element to place, should go as a pin that adorns the dress."
Does it seem true? If you haven't eaten flowers yet, you still don't know the most colorful side of Mexican gastronomy. You can't miss it!
.