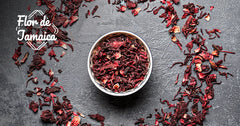 Surely you have consumed the flower of Jamaica since your childhood without realizing everything that this flower from Africa and that has become popular in Mexico brings you.

Within the ingredients The most popular of our houses is the flower of Jamaica. In our memory is the smell of the kitchen when our mothers heated water to add a little jamaica and prepare us a delicious and fresh water to take away the heat of sunny spring days.

Researchers have carried out various studies on this flower, mainly for its nutritional and medicinal properties, as well as for its ability to grow in all types of climates. In Mexico, it is harvested mainly in Guerrero, followed by states such as Oaxaca, Nayarit and Puebla.
There are many properties, as well as ways to prepare it, since it is an ingredient that works as an antiseptic and slimming agent, maintaining body temperature as well as helping our heart. Let's learn more about the benefits of this flower:

• It helps regulate the levels of triglycerides and cholesterol in our blood if we consume it regularly in water
• Due to its high content of calcium, iron and phosphorus, it helps us reduce muscle pain
• It helps with digestion due to its high content of fibers, minerals and bioactive compounds
• If you have insomnia, a Jamaican tea is your best option as it will relax your body and mind on those days of a lot of stress.
• If you have a wound or rash on your skin, you can place a little hibiscus flower to help it heal
• Prepared in water, it is an incredible diuretic agent that helps us eliminate toxins in our body.
• It is excellent for fighting hangovers since it will keep us well hydrated during the day
• It helps eliminate toxins from the kidneys and liver

In addition to all the benefits that we already mentioned, with the jamaica flower we can prepare delicious recipes as well as being an option n exquisite for people looking for a balanced diet. If you want to prepare jamaica
we share our Jamaican Flower Recipes and surprise your family with innovative and fresh dishes.

Did you like this note? Share your comments with us, and don't forget to visit our page to learn more about our products and how to prepare them. Remember that you can now order your favorite ingredients in our online store. Find our products at any Walmart, Superama, Bodega Aurrera, H-E-B, laComer, Alsuper and at your nearest store.