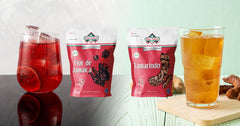 Nowhere else do they make the typical waters that we know and consume in Mexico so commonly, but we really don't know their origin. Stay and learn more about this culinary tradition.
The first soft drinks
Did you know that since the time of the Porfiriato and until the 30's, fresh waters were called soft drinks? Now they are called fresh because they were originally kept in clay pots, which kept the temperature low even in hot seasons.
Although the presentation has changed and now they are served in vitroleros with a lot of ice, but the essence remains the same, as in the times of the Aztecs, who crushed fruit, added ground flowers and water to withstand the journeys that they performed
Now we find an enormous variety of fresh or flavored waters in any Mexican city or town; and while the basic are always available (jamaica, horchata, lemon and tamarind), there are also seasonal or slightly more exotic flavors.

Are they healthy?

As long as they have little or no sugar, yes; so the ideal is to avoid the waters of the paleterías and make your own. Fortunately, they are very simple processes and the recipes can be delicious (like ours), as well as being able to add different ingredients that make them more nutritious.

The reality is that thanks to the variety of fresh fruit in our country we can enjoy different options in fresh water, such as watermelon, cucumber, lemon and chia, mamey, passion fruit, soursop, sapote, mango, jobito, barley, strawberry, pineapple... Anyway, the list goes on, and each fruit has different properties such as vitamins, fiber, among others, which make them not only refreshing drinks but also nutritious.

Traditions
Tlaxcala, Queretaro and Zacatecas celebrate the festivities of the Virgen de Dolores with beet water that contains small pieces of banana, peanut and apple. In Zacatecas it has a variant in which orange is added, called "Water Salad".
In this tradition, to honor the Virgin, an altar to the Virgin was placed inside the houses so that visitors could come and pray later, but first they had to ask "Has the Virgin cried yet?" and if the owner of the place said yes, she could go to the house and say a prayer to later have a drink as a courtesy from the host.
If you're looking to make fresh water at home, you can find our recipes on the blog, or simply blend whatever ripe fruit you have at your disposal with water and a little sugar or sweetener of your choice (or without sweetener).
Tell us on social networks which are your favorites, and remember that you can buy Don Zabor products at any Walmart, Superama, Bodega Aurrera, H-E-B, laComer and Alsuper, as well as at our new store online.