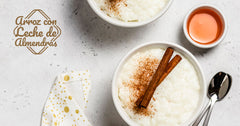 We already told you where this cereal comes from, and what is promised is debt; We are here to share one of our favorite recipes.
A recipe from and for the heart
No other dish says home like rice pudding, but this recipe is special. It tastes comforting and is also perfect cold or freshly made. The main difference in this recipe (and the one that gives it the best flavor) is the almond milk, which you can also make at home.
In addition, we must take into account the benefits of this complete dessert; almond milk is low in carbohydrates, contains calcium, healthy fats, is rich in vitamins E and D, while lemon peel contains high amounts of vitamin C, helps fight abdominal inflammation, control blood pressure, and is good source of potassium, magnesium, calcium and folic acid.
rice, on the other hand, is an excellent source of energy due to the starches it contains; it is rich in fiber, complex B, iron among other things, and cinnamon, for example, prevents the formation of gases, protects the walls of the stomach, is useful for reflux problems, acts against bacteria harmful and is also useful against respiratory diseases.
We could go on and on but we'll get to the same point; Only the benefits of this dish are enough to make it an excellent option even for breakfast or dinner, as well as eating it as a dessert after lunch.
Is it a Mexican dish?
Although it would seem so, because there is no Mexican house that does not prepare it occasionally, nor a Mexican who does not remember the rice pudding prepared by his grandmother and even the grandmothers of his friends, this delicacy does not originate from our country.
Like the rice itself, this recipe comes from Asia, having passed through Spain before reaching us; In its earliest preparations, it was cooked with honey, since refined sugar did not yet exist. Later, brown sugar and piloncillo were used, and later, it was made with refined sugar. There was also a time when it was prepared with almond milk since the church prohibited the use of cow's milk on vigil days, so it was customary to use this vegetable milk.
What's more, this dish is traditionally cooked in many Latin American and European countries. This is how this delicacy is known in other countries:
North Africa:

Moghlie

, with anise and ginger;

riz bi haleeb

, with rose water.

Germany:

Milchreis

, with cinnamon.

China:

Babao fan

, rice with eight treasures (candied fruits).

Slovakia:

Mliecna ryza.

Greece:

Ryzogalo

, with cinnamon.

India:

Kheer

, with reduced cow's milk, and

Phirni

, with pounded rice,

cardamom and pistachio .

England:

Rice pudding

.

Iran:

Shola-e-zard

, with saffron.

Italy:

Budino di riso

, with raisins and orange peel.

Malaysia:

Pulut Hitam

, with high-gluten black rice (without milk).

Norway:

Riskrem.

Puerto Rico: Sweet rice, with coconut milk.

Sweden:

Risgrynsgröt.

Thailand:

Kao niow dahm

, with black rice (no milk).

Turkey:

Sütlac

, with milk and vanilla.
We won't make you wait any longer, here is Don Zabor's special recipe
Ingredients
1 liter of almond milk
200ml of water
150 gr of rice
100 gr of sugar
1 cinnamon stick
Zest of 1 lemon (avoid the white part)
1 teaspoon vanilla
1⁄4 cup of raisins
1 pinch of salt
Preparation
Place the water, cinnamon, and orange peel in a pot and boil for about 5 minutes.
Add the milk to the pot and boil another two minutes over low heat..
Carefully remove the cinnamon and orange peel.
Add the rice, raisins, sugar and salt and mix well.

Simmer over low heat for 20 minutes or until liquid has softened

mostly absorbed, stirring from time to time.
Remove from heat and let cool for a few minutes before serving.

Serve in cups or small bowls and decorate with cinnamon powder or grated

lemon.
You can buy the rice, almonds, raisins and cinnamon from Don Zabor for your recipe, at any Walmart, Superama, Bodega Aurrera, H-E-B, laComer , CityClub and Alsuper, and don't forget to tag us on social networks and share your photos with us!
.