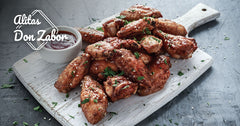 We want to start the day of the wings with the right foot, and there is no better way than with this sauce to enjoy in the best company.
A delicacy only for the brave
This sauce is delicious, yes. But we have to be honest, it's not for everyone. It has three levels of heat, in addition to that smoky and bittersweet flavor provided by its star ingredients, and it goes well with summer evenings and a well-balanced drink. cold.
Do you know how this dish was born?
The year was 1964, and at the Anchor bar in Buffalo, New York, Dominic Bellissimo asked his mom, Teressa, to cook a snack for him and his friends at night, and not having many supplies in the kitchen of the bar, he used some chicken wings that otherwise would have been destined to make broth, and decided to fry them and bathe them in the house sauce and accompany them with a blue cheese dip and celery sticks.
Dominic and his friends loved this dish so much that the next day, the Bellissimo's put them on their menu the next day and they were an instant hit. And although fried wings were already a part of southern cuisine in the United States, this new way of preparing them was a boom.
Don Zabor's version
Buffalo wings may have been the traditional way to prepare them, but the house recipe is like nothing you've ever tried. It has the perfect Mexican touch, the abuelita seasoning that any recipe needs and it goes well with the flavor of chicken, or cauliflower if your diet is plant-based or even cheese fingers.
This recipe for three chilies with tamarind will make your mouth water and your guests will ask for seconds and thirds. Enjoy this recipe with an extra spice in the company of your favorite people!
Ingredients
1⁄2 kilo of

tamarind

3 chili peppers

blackberry

3 chiles

chipotle

6 chiles from

tree

1 teaspoon cumin powder
1⁄2 teaspoon garlic powder
1 teaspoon onion powder
1⁄2 cup sugar
1 tablespoon of salt
1 cup of water
1 cup tomato puree
11⁄2kg wings
Preparation
For the sauce
Soak chiles in hot water until rehydrated and soft, then drain.

Remove the skin from the pods of the tamarind and the threads, leaving only the pulp.
In a pot with the cup of water, cook the pulp over low heat until soft.

Remove from the heat, let cool and remove the seeds.

Blend the previous mixture with the chiles, the tomato puree, the garlic, the onion and the cumin powder.

Return this mixture to the heat and add 1⁄2 cup of the sugar and the salt and stir well.

Remove from heat and reserve.
For the wings
Pre-heat the oven to 175o C.

Place the wings on a tray lined with waxed paper and bake for 40 minutes or until golden brown and crisp, turning halfway through cooking so they are crisp. browned on both sides.

Carefully remove them from the oven and mix them with the sauce

Serve accompanied with the dressing of your choice and if you prefer, carrot and celery sticks.
Tips from the house
We share some tips to enjoy your wings:
You can replace the salt with a couple of tablespoons of soy sauce, for a slightly different version.
You can also marinate your wings in a little sauce for a couple of hours before baking.
If you don't love commercial dressings, come back to this blog soon, we'll be sharing a delicious and healthy dressing recipe soon.
If you want to replace the chicken with cauliflower or cheese fingers, we suggest battering them in tempura or breading and frying them instead of baking.
You can decorate your dish with coriander or chopped chives, in addition to making it look better, it will give a twist to your preparation
Remember that you can find the
Don Zabor
products you see in this recipe at any Walmart, Superama, Bodega Aurrera, H-E-B, laComer, CityClub and Alsuper. Share your photos of the Don Zabor recipes that you have prepared on your social networks and tag us! We love to see that our customers and friends are enjoying new recipes.
.