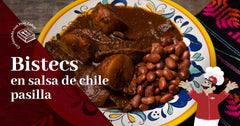 If you are one of those who every time they say "steak" your mouth waters because it fascinates you, we have good news for you, we will use it as the main ingredient! So take out your notebook, write down the recommendations we have for you to prepare it in a very tasty and spicy way: in pasilla chili sauce.
This dish is one of the best known in Mexican food, popular in inns and restaurants, it is characterized by being simple to prepare, and best of all, for being an economical option available to everyone.
The pasilla chili makes a great combination with beef, so we chose it to give you some inspiration for your menu of the week. The truth is that you can make this recipe with few ingredients or add a few more, such as cambray potatoes to give it a special accompaniment. So let's see how you can prepare this very homey recipe with the following elements.
Ingredients:
Oil to taste

1 onion

1/2 cup chicken broth

600 grams of beef steak

12 chambray potatoes, well cooked and cut in halves

Pepper

Salt to taste

3 medium tomatoes

2 garlic cloves, peeled
Preparation:
The first thing to do for this recipe is the sauce, so you have to soak the chiles in hot water from the beginning for approximately 10 minutes. Then, put oil in a pan and start frying the onion, when it is transparent, add the chilies and garlic. When they are fried, add the chicken broth and the tomato, let all the ingredients cook for about 10 minutes.

Remove from the heat and let cool slightly, put the entire mixture in the blender to grind the sauce. Then strain it to fry it in oil and save it for later.

In another pan, fry the steaks, you can previously cut them into strips or leave them whole, season to taste with salt and ground pepper, leave them there until they change color and are completely cooked.

In the same pan where you fried the steaks, gradually add the sauce, the cooked potatoes, stir and check that they are perfectly covered. Let cook for about 10 minutes, over low heat.

It works for everyone!
This recipe can take about 40 minutes or less, making it a good option for when you're short on time but really hungry. Among the recommendations to serve it, first of all we have the pot beans, which are a great companion, as well as a handful of steamed vegetables, and you should not forget the tortillas for the world, to make some delicious stew tacos.
Some variations of this dish include nopales in the preparation, giving it a more traditional touch of Mexican food. If you want to add it to this recipe, we recommend integrating it when frying the steaks.
Another option that you can use in the preparation that can improve the flavor of the meat is to let it marinate with pepper, garlic and salt to taste. If you fancy pork more, the same sauce also goes very well with it, although remember that this meat takes longer to cook and you can do it in a pressure cooker to save time and gas.
Have you already decided what day to prepare it? Ufff, it will be luxurious! Follow each of the steps of the recipe and share our note with your friends.We also want to invite you to learn more about our website, tips, recipes and the variety of Don Zabor products which are of the highest quality
.