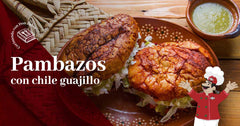 We are already in the national month! Where the best festivities are held honoring the independence of Mexico and a tribute to the best Mexican food. There is no doubt that the best national dishes are prepared in each home, everyone has their favorite but we want to talk to you about its majesty: the pambazos.
Which has its origin in Orizaba, Veracruz, legend has it that it was created by a cook to impress Empress Carlota. But, its preparation and use also depends on the entity, for example, in Puebla and in areas of Veracruz itself, the pambazo is a white bread stuffed with sweet mole, or beans or sausage. It can also be tasted without filling and accompanied with a chocolate or coffee with milk.
Over the years the filling has also been innovating, some use suadero, ground meat, others shredded beef or have even been made with cochinita pibil. So if you're afraid to vary the filling a bit, you shouldn't, since like good Mexicans, trying new things and giving tasty twists to recipes is our thing.
So the time has come, take note and don't forget to put your final touch on it or change some ingredients of your choice. Our recommendation for preparation is with potatoes with chorizo, so before using the potatoes, boil them with salt for about 15 minutes. Let's go to the recipe!
Ingredients:
1 clove of garlic

¼ onion

Lard or vegetable oil

1/2 cup of water

400 grams of chorizo

4 medium cooked potatoes

6 teleras or bobbins

Sanitized and cut romaine lettuce

Sour Cream

Grated cheese

Green Sauce
Preparation:
First, and as we have mentioned in previous recipes, you must devein the chiles and soak them for half an hour in hot water. You can also cook them for 10 minutes before using them.

Here the order does not alter the product, so you can make the sauce or filling first, we'll start with the sauce. In the blender add the chiles, onion, garlic and water. In this step, if you like or are used to it, you can add a tablespoon of chicken bouillon powder.

Once you have the mixture, heat a pan with a little butter or vegetable oil, once it's hot, use a strainer to add the sauce and let it fry for a few minutes.

Now prepare a pan to fry the chorizo, put the oil first and then add it. Stir constantly and let it brown a bit. Then, you integrate the cooked potatoes and crush them little by little on the saucepan and stir with the chorizo. After 10 minutes on the fire, when the mixture is ready, turn off and store.

Now it's bread's turn! This part is exciting, with the guajillo pepper sauce done, you must cut the teleras or bolillos in half, varnish with a kitchen brush, do it on the top and bottom.

Immediately, fry them with the butter or oil in a pan, when they are on both sides, start filling them with the potato with chorizo.

To finish and serve, add the cheese, sour cream, lettuce and your favorite sauce to taste.
Wow! Really, they will be incredible, if you thought that it is a very complicated recipe and it would take you a long time, it is not like that, at most you will spend 45 minutes to make them.
Prepare your Mexican party at home with this delicious pambazos recipe, remember that Don Zabor products are packaged with the highest quality and you can get them at Walmart, H-E-B, La Comer, City Club and alsuper
.