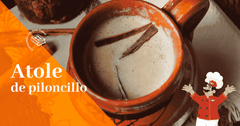 Every time we hear the word "atole", we know that it is a very Mexican peculiar drink and that it has a pre-Hispanic origin with the Mexicas. Atole comes from the Nahuatl "atolli" which means watery and from "atl" which means water.
Surely you remember that when you were little, every time you felt sick to your stomach, mom pampered you and took care of you by preparing a delicious atole to help you with the discomfort or also that it is a perfect complement every time you taste a torta de tamale at the stalls.
This rich and delicate delicacy is made with cooked corn, diluted in water, ground or with milk and boiled until a thick consistency is achieved. There are many varieties in its preparation, some add aromatic spices such as cinnamon, anise or vanilla, to give it a different flavor and in some other cases it has sweet touches such as chocolate (champurrado) or some fruit of the current season. There are also those who make it with rice or wheat, to vary its consistency.
Have you been craving it yet? Wow, atole brings us beautiful memories and with this recipe that we bring you you can start a new tradition at home, so let's see what ingredients you need to make one for 4 people, if it's for less, divide the weights by 2.
Ingredients
400 grams of corn dough

1 and a half liters of water

1 Can of Evaporated Milk (Optional: you can prepare the atole with just water or you can make it with milk to give it a creamy texture)

1/4 Teaspoon Salt
Preparation:
Do you have all the ingredients? Perfect! Now find or get a pot or a wide saucepan for the atole. Tip: It is recommended to use a clay pot to give it a more traditional and special touch.

Add the piloncillo, the cinnamon and the liter and a half of water together. Put it on the stove over medium heat and check how the piloncillo dissolves little by little. If you want to make it with milk, in this step you change the water for the evaporated milk.

When the piloncillo is finished dissolving, remove the cinnamon from the mixture. Lower the flame so you can make the next step in this recipe at the same time.

In a blender, put the 400 grams of corn dough, try to place and separate some small pieces and add 1 liter of water. You liquefy it right away.

While your pot is still on the fire, now add the mixture that we just made with the dough and stir constantly so that this ingredient is perfectly integrated, check that there are no lumps or that it sticks to the the background.

Let it boil and that's it. Check if you like how thick it is at the end
If you are looking for a hot drink to alleviate the cold, atole is a great option for adults and to pamper the little ones in the house. You can accompany it with cookies, bread or with the traditional tamale. If you want to create it with another flavor or fruit, boil them from the beginning with water and sugar and sweeten with piloncillo.
Take advantage of this simple recipe to prepare and with few ingredients, so you can make it in the morning or during free time at night.
Are you ready to make your own version of atole con piloncillo? Do not wait more! Put your cooking skills to the test and integrate the flavors of Don Zabor products into your dishes.