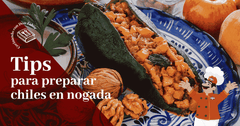 It is approaching, or rather, the season has already begun in our country for Chile en nogada, a delicious and exquisite dish that everyone wants to bring to their table. More than one knows someone who knows how to prepare them without any problem and even sells them, so for others, it can be a complicated recipe that causes a bit of stress to make.
This traditional dish has its origin in Puebla, legend has it that some nuns began to prepare it as a form of celebration for the Independence of Mexico, using the colors of the flag in its ingredients. Others say that the girlfriends of some soldiers in Puebla were the ones who devised the dish as a detail for them on their return.
Anyway, knowing a little about their origin and history, we can tell you that their preparation is really laborious but not impossible, so we put together the best tips to prepare them so that you can show off to everyone.
Ingredients:
1 grenade

20 milliliters of sherry

3/4 cup of raisins

1/2 cup of milk

1 sprig of parsley

100 grams of cream cheese

1/2 chopped onion

8 poblano peppers

1/2 cup of pine nuts

1 plantains

400 grams of ground beef

4 tomatoes

2 cloves of garlic

1 pear

1 peach

½ cinnamon stick

5 black peppers

3 cloves

¼ tsp thyme

o (crushed together)
Preparation:
Wow, that's a long list, but you'll see why each ingredient is important. We will start by soaking the Don Zabor walnuts in a container, leave them for several minutes since in this step, you will be able to remove the shell, here is the first tip, you must clean them well so that they do not bitter the flavor.

Then you must transfer the nuts to a container with cold milk so that they turn white. You should also let the Don Zabor almonds rest in hot water to make it easier to remove the shell. Immediately, put them in cold water so that they also take on a whiter color.

Clean the tomatoes and put them to roast in a comal with low flame. When they are ready, remove them, remove the skin and grind them all in the blender. Save it for later.

Let's go now with the stuffing of the chiles, the meat! Put a little oil and the garlic in a pan, fry for a few minutes and remove them, this is so that the oil absorbs its flavor. Add the onion and garlic that you took out, but now chopped. Once the onion looks shiny and transparent, you can add the ground beef. You will have to move it constantly so that you do not have any uncooked pieces.

When the meat turns gray and is no longer red, you should add the ground tomato. Be careful here, you should strain it and then add the mixed and crushed spices, salt and sugar. Add the raisins and cook for a few minutes.

Peel and cut the pear, apple, peach and plantain into small pieces. Add to the meat you already have and add pine nuts, sliced ​​almonds and sherry. Keep mixing and it will be ready when you see that the fruits are ready.

Chili peppers! We had not forgotten them, this step can be done at the same time that you prepare the meat, but be careful not to burn them.Toast the poblano peppers on a comal and when you see that their skin begins to come off, keep them in a plastic bag for 1 to 10 minutes. Then, peel them and remove the seeds.

Fill them with the mixture we made. You can prepare them weathered with flour and egg, and fried.

Finally, another of the main steps, the nogada, mixes the soaked walnuts and almonds with the cheese, cream, condensed milk, sugar, powdered cinnamon and sherry.

Serve the chiles on a plate, put the nogada on top and decorate with pomegranate and parsley sprigs.
Did you like the recipe? Remember to use Don Zabor products to prepare delicious Mexican dishes that will be to everyone's taste.
.