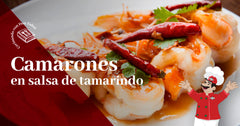 For those who are fans of oriental food, shellfish and also seek to use tamarind in an original way in their recipes, we have this incredible preparation that will leave everyone speechless. Come on!
Shrimp cleaning
First, before going into the ingredients and the steps to follow, it is important that you take into account this tip for cleaning the shrimp, since it is important to guarantee their best flavor and take care of their health of you and your family.
Recommendations:
You should put the shrimp under a stream of water to clean until any debris or element that shouldn't be there comes out.

Cut off the head of the shrimp, remove the shell and tail, clean them again with water.

Remove the intestines with the help of a toothpick in the middle of the shrimp, insert it and pull the black strip up until everything comes out, it can also be done with a knife by making a cut on the edge and cleaning little by little. little with water until it's all gone.

Put them on a colander to dry.
Let's get ready!
Here's another tip, remember that you can also measure the amount of shrimp by pieces and people.
Now that we have the shrimp clean and they are super fresh, without the tail and without the shell, it is time to go find the ingredients that will make this dish your favorite.
Ingredients:
Olive oil to taste

½ onion

Salt and pepper

¼ cup of sugar

1 cup of water

½ kilogram of medium shrimp

2 cloves of peeled garlic

Ground chipotle pepper to taste
6 pods of
Don Zabor Tamarind
White wine

Chipotle sauce to taste
Preparation
Bring the tamarind to a boil in the water, remove the skin and seeds first. When it starts to boil, add the sugar. Stir until the consistency is smooth.

Let the mixture cool and then grind it in a blender with the chipotle pepper and white wine. It depends on how spicy you like it, that's what you can add from the chipotle sauce.

In a frying pan, heat the olive oil and then add the garlic with the onion (chopped). When the onion begins to look shiny and transparent, that's when you should add the tamarind sauce.

Mix and move constantly, try it to season with salt or chipotle and let it heat for a few minutes.

The shrimp are coming! Prepare another pan with olive oil, season the shrimp and cook. They will start to change color to a more pinkish hue. Flip them when they're done so they can fry on both sides.

Remove the shrimp from the pan and serve on a plate, put the tamarind sauce we prepared on top and that's it.
Just writing the recipe, we feel like it! And the truth is that it is simple, with ingredients that are easy to obtain and very delicious to pamper the best palates at home.
If in doubt about how to serve it, you can accompany it with a delicious white rice, steamed vegetables, a cucumber and lemon salad or serve it alone as a main dish and garnish with sesame seeds. Some also give it a fun touch when they use skewers when cooking the shrimp (optimal for barbecues) and accompany the duck with a small glass of sauce to "chopear" to taste.
Stay tuned for our recipes and the best tips so that your dishes become a sensation.Remember that you can learn about the variety of Don Zabor products on our website where you will also find the list of establishments where you can buy them
.