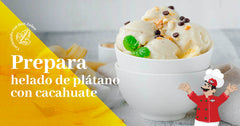 Did someone say ice cream? Yes! We want you to pamper your family with a fresh recipe that doesn't take up much time and with which you can show off to everyone. But first, we are going to tell you a little about its origins, because although it seems like a recent food, its history dates back to China, more than 4 thousand years ago.
The ice cream was initially prepared with a base of rice, some spices, honey, fruits and, mainly, ice that they collected from the mountains, of course, because before there were no refrigerators to store it. And because of this, it obviously made it hard to come by, making it a food of the upper classes.
It was from the sixties that the creation of what we now know as the ice cream that we buy in stores began, thanks to the Italians. Over time, many things have changed, and now it's a dessert accessible to everyone!
That's why we want to give you a great preparation idea that you can use at home to give your recipes a creative twist, create a delicious dessert for after eating and add a sweet touch to moments at home.
Ingredients:
Preparation:
Peel and cut the ripe bananas into small pieces, then put them in a ziplock bag (so they don't freeze inside) and put them in the freezer for 3 to 5 hours.

Now, it is time to peel the peanuts, once they are clean, put them in a food processor and grind for about 2 to 3 minutes until you see that they are as crushed as possible.

Once the 5 hours have passed, remove the banana from the freezer and pour it into the mixture with the peanut and grind again, now with the two ingredients in the processor.

In that same step, add a tablespoon of brown sugar and if you like, a little rum to taste.

Ready! Put it in the freezer in a container if you want it to be colder and improve its consistency.
This option is also suitable for those looking to make ice cream but are lactose intolerant or looking for a vegetarian ice cream option. Although, if you want to add milk to the recipe, look for one with almonds or the normal one depending on your tastes, it really is delicious!
Presentation Tips
As you may have noticed, this recipe takes little time and you can give yourself the opportunity to do more things in your day to day. But, if you want to show off your presentation too, we have several options to do so.
One of the first options is to serve it in a medium glass cup and add some peeled peanuts on top, as if they were sparks. You can also take several servings of the ice cream and put it on top of a chocolate chip cookie and close it with another, to create a delicious cold sandwich.
Some others use the cookie cutters to shape them into fun displays, you could use a star, a triangle or lots of hearts if you want to look romantic or detailed. You can also combine it with cereal or place it on a waffle, hot cakes or on a delicious seasonal fruit, so you can give it a fun variant for the little ones at home.
Have you saved the recipe yet? Very well! We hope you enjoy this delicious ice cream to the fullest with your family, share it with your friends or pamper yourself at home with its captivating flavor. Don't forget to learn more about the presentations, properties and stores where you can buy Don Zabor products at our website.