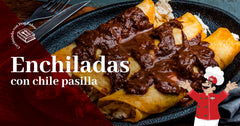 The national month is the ideal season to prepare delicious dishes that delight the palate of your guests and that is why we are looking for a recipe option that is simple and that you can make at home in a few minutes.

Without a doubt, enchiladas are particularly a tradition in Mexican food, being part of the diet of families in our country for years and its variety gives us a wide way to prepare them in different versions and flavors with its main base, the tortilla and the chiles.

And we can go from the green ones made with green tomato, the red ones with different chiles as a base, there are also mole and even those that are typical of each entity, such as Potosinas, Queretaro or Monterrey. . They are all a delight!

Another characteristic in its preparation is the stuffing, the most used is with shredded chicken, beef, some others use scrambled eggs and others potatoes prepared with carrot or cheese. In this it applies: genres are broken in tastes. To taste!

Did you feel like just reading it? Well, it's time to get into action to prepare this delicacy and celebrate the national month as it should.




Ingredients:
300 grams of shredded chicken (you can use chicken breast or change the filling for another ingredient)
1/2 onion
¼ chopped onion
6 green tomatoes
1 minced garlic clove
150 grams of grated panela cheese
1 tablespoon of chicken broth
1/4 cup cream
1 sprig of coriander
1 cup of water
Vegetable oil
Corn tortillas
Salt to taste



Preparation:
In a frying pan or on a griddle, put the green tomatoes to roast along with the onion. As soon as the tomatoes are cooked on both sides, remove them from the pan. The onion is ready as soon as it looks shiny and a bit transparent.
Now prepare another pan, add a little oil and as soon as it is hot, add the 5 pasilla peppers and fry for about 5 minutes. In a short time they will be ready.
With all the ingredients at hand, we are now going to mix them, we put the chiles, tomatoes, onion, cilantro, garlic, chicken broth, salt and a little water in the blender. Blend until the mixture looks homogeneous.
In a pot, heat a little oil, add chopped onion and fry the mixture. Leave it on low heat for about 10 minutes and the sauce will be ready.
Fry the tortillas and put them on a plate, fill them with a little shredded chicken and form some tacos with the beginning of the tortilla down so they don't open.
The good stuff is coming! Pour the sauce evenly over the tacos until completely covered, have the cream ready and add to taste on top of the enchiladas. Finally, put the final touch with the grated cheese and serve immediately.



What do you think of our recipe as a main dish for these dates? A great option! Pamper everyone at home with some delicious pasilla chili enchiladas and keep in mind that you can learn more about Don Zabor products on the website.