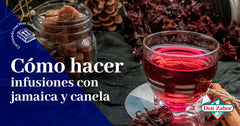 Sometimes we can't leave the house to enjoy the things we like the most, so we look for ways to pamper ourselves with small details that make our day to day something special. Has a delicious drink ever changed your mood? You can do this detail for yourself or someone else, but the most important thing is how healthy it is that you prepare it yourself.
The fruit infusions are a great option if you are not good at drinking plain water or need to drink more water and are looking for a way to vary the flavor a bit by taking advantage of natural ingredients and without falling into the exaggerated consumption of sugars. Among the benefits of enjoying these drinks is that you take full advantage of the properties of the fruits or plants that are used.
So to help you with this mission, we want to show you how to make homemade infusions with two of our favorite ingredients: hibiscus flower and cinnamon. So find the ingredients and write down!
Jamaica infusion
Ingredients:
Preparation:
Put a liter of water in a kettle and when it boils, remove it.

Add the hibiscus flower to the hot water and let it sit for about 10-15 minutes.

Strain the liquid and serve in a cup.

You can add mint, fruit or cinnamon if you want to combine another flavor after the 15 minutes in which the water rested with the jamaica.

If you like hot drinks you can enjoy it immediately, if you are a fan of cold drinks, just add ice to cool it down.
What do you think of this Jamaican infusion? It is a good remedy against insomnia, relieves inflammation, helps you with flu symptoms and also fights hangovers. Best of all, you can make it while cooking other foods or doing other things around the house.
Cinnamon infusion
Ingredients:
Preparation:
Use a kettle or a small pot to boil the two cups of water, if you are going to share, put more water.

Let the water boil and add the 2 cinnamon sticks, leave it on the fire for 3 minutes and turn off.

Remove from the heat and let it rest for approximately 10 minutes.

Strain and serve, this drink can also be drunk cold, just add ice and that's it. In a few minutes you have a delicious cinnamon infusion!
Some of the benefits of drinking an infusion of cinnamon are: it helps reduce the risk of cardiovascular diseases, improves digestion, is a natural antioxidant and stimulates the immune system.
Take advantage of the properties of both ingredients to prepare delicious drinks to help you with the cold in these seasons and learn more about Don Zabor products on their website.