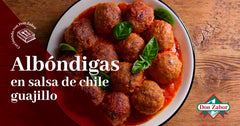 It's time for the meal and you want to prepare some meatballs, but you want to give your family something different, a different seasoning but with this classic dish in Mexican food. For this reason, we want to give you a new recipe on how to make meatballs but with a guajillo sauce.
And speaking of this traditional dish, the variety in which it can be prepared is wide, just to give you more ideas, it can be cooked with vegetables, seafood, veal, beef, chicken and more. And since they are made up of some of these ingredients, comes the final touch: the sauces. That tasty detail that perfects the whole mix and that makes this particular dish a great source of inspiration to create different companions.
So write down the ingredients carefully because we will tell you how to make ground beef meatballs in guajillo chili sauce . Let's go with what you need!
Ingredients:
3 cloves of garlic

Salt

Coriander

Vegetable oil

5 tomatoes

1 chopped onion

1 kilo of ground beef

1/2 cup of breadcrumbs

Black pepper

1 liter of chicken broth

3 boiled eggs

Cumin
Preparation:
First, you will need to put the ground beef with the chopped onion, chopped cilantro, ground bread, egg, salt and pepper in a bowl. Stir the mixture with your hands so that it is well done.

Make small balls the size you see that they are like a golf ball. Check that they are all the same size. As soon as you finish mixing, put the balls away and cover them for a moment.

In the previous step, you can also fill them with boiled egg, which you will have to divide into several halves to integrate them into the meat. This is optional, they can also go without the egg and only the meat.

Prepare hot water, bring it to a boil and remove it from the heat. There you will let the guajillo peppers rest without veins and without seeds for about 10 minutes. You remove them and let them dry.

In the blender you should mix the chiles, a little cumin, 1 garlic, ¼ onion, the tomatoes, a pinch of salt and the chicken broth. Wait for the mixture to look uniform.

We prepare a pot with a little oil and then add the sauce we just made. As soon as it starts to boil, add the meatballs to the broth.

Check that the balls are cooking and that's it!
Actually this meatballs recipe is not complicated, it can take you from 30 minutes to 1 hour, it depends a lot on the ingredients or variations you add, but really that despite being something very common, it is worth trying it this way.
And if you wonder what to accompany them with, you can serve them with a delicious white rice with carrots, pot beans, avocado or with a side dish or salad. Some also make pasta to accompany, so give free rein to your taste.
The variety of Don Zabor products are ideal for preparing the best Mexican dishes, remember that you can find them at Walmart, H-E-B, La Comer, CityClub and Alsuper stores.