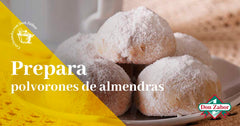 Do you already have your recipes ready for the holidays? If you are still open to adding a delicious dessert to dinner, we have a very delicious and healthy option for you. The almond shortbread can be made as a complement to your Christmas dinner, as a gift for your friends, neighbors or to pamper the little ones in the house.
Whatever you choose, we will teach you a practical way to make them that will impress everyone who tries them.
Ingredients:
Preparation:
If you chose the shelled almonds, the first thing you should do is peel the almonds, bring half a liter of water to a boil and when it reaches its boiling point, add the almonds and leave them for 1 minute. Turn off the heat and strain the almonds, now pinch them to remove the shell and that's it. Let stand and cool.

Next, grind the almonds in a food processor.

Mix the flour with the crushed almonds, prepare a frying pan and put it over low heat. Let the mixture brown a little, you'll know it's ready when it starts to look golden. Let cool completely.

Now, with the butter not so cold (if necessary put it in the microwave for 15 seconds) mix it with the flour with almonds and then with the other ingredients: 100 grams of powdered sugar and cinnamon powder.

Start kneading the mixture to integrate the ingredients and achieve a compact and sandy shape, then let it cool at room temperature for 2 hours with a plastic cover.

Take a piece of the dough and start flattening it with a rolling pin, leaving a thickness of 1.5 to 2 centimeters. Cut the portions of the shortbread with a pastry cutter or use the mold of your choice that is oval or round. Arrange your shortbread on a tray, avoid putting them together and leave spaces of 2 to 3 centimeters.

Preheat the oven to 180º C.

Put in the oven. They'll be ready in about 15-30 minutes, so check them from time to time so they don't burn.

Remove from the oven and with a strainer, decorate with icing sugar to taste. Serve on a plate and voila!

You can also decorate the shortbread with sesame, cinnamon powder, almonds or ground walnuts to make them more attractive.
This recipe is great so that by the time the dough cools down, you can make other foods for your Christmas dinner. Try to make small portions so that it reaches you and lasts for more.
For the presentation on your table, you can put them as a pyramid, in colored paper, in transparent bags or in glass cups. They will look amazing!
We hope you liked this sweet preparation that will leave everyone delighted at Christmas. Remember that you can get Don Zabor products at self-service stores: Walmart, H-E-B, la Comer, City Club and Alsuper.