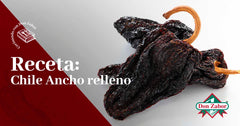 To create delicious stuffed peppers, you should not always use the traditional poblano pepper, there are also preparation options with other peppers that fulfill their function and are delicious.
In this case we want to offer you a very tasty way, with dried ancho chili peppers! Its triangular and long shape gives us a great option to fill with whatever comes to mind. And since we know that sometimes having time to weather is complicated or you are always running and looking to cook as quickly as possible, we propose this recipe for anchored chilies stuffed with cheese without weathering.
Ingredients:
½ onion

Vegetable oil

2 cloves of garlic

Salt

Oregano

2 chopped tomatoes

3 tomatoes

1 can of beans

½ panela cheese

Avocado the taste

Coriander

Cumin

Pepper

½ cup of water
Preparation:
First and very important to start, clean the ancho peppers, remove the veins and seeds.

Put a pot of water to boil and remove. There you should soak the

dry ancho chili

for approximately 5 minutes, check that they are already soft and take them out so that they do not break. Drain them on a separate plate.

Now, if you have canned beans, prepare a pan with oil to fry the chopped onion, let it look a little transparent and add the beans to fry them for about 10 minutes and store them. In this step, if you already have the beans made, just heat them up to have them ready and at hand.

We are going to prepare the sauce to accompany the

stuffed ancho chili

, put the tomatoes, ½ onion, coriander, 1 clove of garlic, salt, a pinch of oregano and water. Grind until the mixture is ready.

Prepare a frying pan with oil and after a few seconds, add the sauce that we just ground, fry for about 6 minutes. You will see that its color will be more intense and that will be the sign that it is ready.

Once the chiles are dry, we are going to fill them with the beans and a slice of panela cheese, try to make sure they are just right and the inside does not come out. You can fix them with a toothpick.

As soon as the 4 stuffed peppers are ready, pour the sauce into a refractory and place them there, you can also put them in a slightly deep dish and serve the sauce on top.

Accompany with white rice and you will surely impress everyone.
This recipe can come out with some variations, especially in the filling, you can also make ancho chili stuffed with mincemeat, plantains, beans with chorizo ​​or meat. The possibilities are endless, take advantage of some stew you already have and experiment.
Do you dare to prepare them? Plan this delicious recipe on your next visit to the supermarket and remember that you can get the Don Zabor products in the best self-service stores