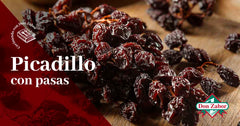 If there is a dish that constantly reminds us of mom and home, it is undoubtedly the beef mincemeat. This owes its name because its ingredients are the most finely chopped. The main element in its preparation is meat, which is usually beef or sometimes pork and is accompanied by vegetables and a sauce.
Like other typical Mexican dishes, each state does it in its own way, let's start with Chiapas, where they usually accompany beef with corn, cabbage, zucchini, chayote, carrot, potato and hearts of palm. While in Oaxaca, they use pork and add tomato, garlic, onion, cinnamon, bay leaf, plantain, olives, and ingredients to make a sweet mincemeat such as raisins and almonds.
It really doesn't have much science when it comes to making it, so it's recommended for when you want something homemade that doesn't take up much time and that you can customize to your liking. For this reason, on this occasion, we have a recipe with which you can anticipate the holidays: Christmas mincemeat.
Ingredients:
Preparation:
Prepare a pan with olive oil and put it over low heat, add the ground beef, as soon as the meat begins to turn gray, we will start adding the other ingredients. Move constantly to check that there are no uncooked parts.

Integrate the meat with salt, minced garlic and a splash of Worcestershire sauce.

Then add the diced cooked potato, let it cook a little and add chopped onion and chopped tomatoes. Stir constantly to mix the ingredients well.

Now the highlight: go include the chopped walnuts, raisins, almonds, cinnamon and bay leaves. Let cook for a few minutes covered.

Stir from time to time so that all the ingredients are incorporated. Taste the stew from time to time to check if it lacks flavor.

Let it cook for approximately 15 minutes and now you have

hash with raisins

!
This dish is also used as a filling for baked chicken or Christmas turkey, which you can make the day before your special dinner to save time on preparation. Others also take advantage of this recipe for poblano peppers, which they fill with this delicious and sweet combination.
The ground beef hash never goes out of style and on the contrary, it is a great option that is cheap and can be mixed and done wonders with just a few ingredients.
Are you ready for the Christmas season? Well, if you want to start rehearsing December dishes, this is a great option to plan your Christmas dinner beforehand.
Take advantage of this season's products to make dishes that will amaze your family with the best ingredients that Don Zabor has for you, get to know them here.