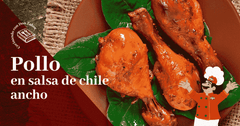 Is it your turn to prepare chicken this week? Sometimes it can be a bit complicated to vary the flavors of the dishes that you often prepare, so you do everything possible so that it does not become monotonous and you can continue having fun in the kitchen.
Thinking about this premise, to prevent you from repeating recipes and having a wide variety of options when considering it, today we bring you a very tasty preparation with Don Zabor wide chili, useful for all those who love chili and of the textures that sauces give to chicken meat.
In addition, this meal has an optimal preparation time, at most it will take you about an hour to carry it out, so write it down in your list of simple and quick recipes to cook.
Keep in mind that chicken is a food that has a low fat content, is easy to digest, reduces uric acid and also provides important vitamins such as complex B, niacin or vitamin B3 . It goes without saying that it is delicious and the favorite of many when it comes to choosing a healthy dish.
Without further ado, we want to tell you about our option, so let's go with the ingredients you need to carry it out, let's cook!
Ingredients:
1 chicken breast cut in half

1 cup of water

1 half cream

1 garlic

1 Nail

7 black peppers

Cumin

½ tablespoon marjoram

Water

1 previously cooked potato

2 medium carrots, cooked and peeled
Preparation:
Before making the sauce, you will need to remove the seeds from the Don Zabor ancho peppers and soak them in hot water for several minutes until they soften completely. Put them in the blender with half a cup of water, half a cream, a handful of salt, a peeled garlic, 1 clove, the marjoram, the cumin and the black peppers.

Clean the breasts and make sure they are free of skin, fat and bone. Cut it into several pieces to make more portions or if you wish, as is.

Now take the mixture from the blender to a large bowl where you can put the breasts and submerge them in the freshly made sauce, let them rest for a few minutes to absorb the delicious chilito.

Heat a frying pan with oil to fry the potatoes and carrots (use a can if you don't have time). When they are ready and cooked, add the pieces of breast and turn constantly to check that the meat browns and changes color. Add the remaining sauce over the pieces and add about a cup of water to let it cook.

When you see that it is already boiling, lower the flame, continue heating and check that it is ready and cooked to turn off the stove and serve.
So simple and fast! You can accompany this dish with portions of white rice or with a lettuce salad with onion and tomato. Keep in mind that this recipe can also go with the media crema or not, just with the chiles and spices you create an incredible and very original flavor on the palate of those who delight it.
Would you dare to do it? Well, you already have the path and the steps to follow, do not hesitate to pamper your visitors with this recipe and be the star of the night with your special seasoning. Add the Don Zabor products to your shopping cart when you visit the supermarket, with them you will have the security of getting the best and highest quality on the market . See you soon!