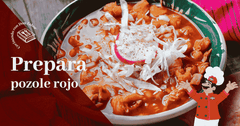 We are one month away from the national holidays and you surely want to start seeing what dishes you can prepare for those special dates. For this reason, we chose one of the most traditional foods of the season: the red pozole.
Its origin dates back to the pre-Hispanic era, and it is itself a special corn broth that is made with beef or chicken (in Guadalajara, seafood is used in some regions). Although the most common is red, there are parts of the country where several of its ingredients vary, such as in the state of Guerrero where white pozole is prepared, so that each person adds the sauce they like and everyone is happy. . Although the traditional green pozole is also known in this area, which takes on that color thanks to the green tomato and the pumpkin seed.
While in the north, they use more varieties of chili to prepare it, adding Anaheim chili or chilaca chili, and meat using pork backbone. In areas like Puebla, it is customary to eat it with chicken as a side, so depending on the area of ​​the country, it is the prevailing tradition.
Apart from being a delicious delicacy, it is also a healthy dish that contains a wide variety of nutrients, of course, in simple portions, accompanying it with radish, lettuce, onion, lemon and avoiding pork rinds or toast as complements.
Well, it's a complete meal and also, thanks to its variety of ingredients, it provides you with vitamins and minerals, but above all, it's an ideal pretext to celebrate our roots. Let's go to the kitchen!
Ingredients:
4 liters of water

1 kilo of hominy corn, peeled and decapitated

5 garlic cloves, peeled

1 onion

6 Don Zabo ancho peppersr without seeds
6 Don Zabor guajillo peppers seedless

Salt to taste

1 tablespoon ground oregano

1/2 kg of pork

3 large bay leaves
Instructions:
In a large pot, bring the water to a boil and then add the hominy corn, with half the onion and 3 peeled garlic cloves. Let it cook while we prepare the following ingredients. The approximate total cooking time for the corn is an hour and a half or more, keep that in mind.

Soak the chiles in hot water for 20 minutes, you will notice that they will begin to look soft, pass them to the blender with half an onion, half a tablespoon of oregano, 1 cup of water and 3 garlic to make the sauce. Strain and fry in oil in another pan or pot. After 15 minutes, we remove it from the stove and put it away.

Add the meat to the corn, if you already see that the grains flowered. If you notice that a little of the water has already been consumed or is needed, add more and add the bay leaves and salt to taste.

Remember the chili mix? you will have to add it little by little to the broth, taste to see if it needs salt and continue cooking. When you see that the meat is already cooked and soft, it will be ready. Taste it first to see if it needs salt.

It's time to serve it! To do this you must have:
Sliced ​​radishes

Split Lemons

Chopped lettuce

1 chopped onion

Toast

Cream

Oregano powder
We already want to try it! This recipe can take some time, so we recommend using a pressure cooker to reduce cooking times and move forward.
Follow our notes to learn more about the recommended dishes for each season and also to discover in which meals you can use Don Zabor
products.