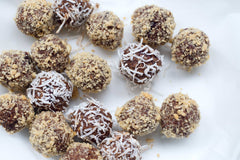 Easy, simple and very tasty
Sometimes we look for healthy foods that help us satisfy our need to eat at times and at the same time, keep us active and without any guilt. That is the mission of the famous "snacks" (or as some of us call them in Mexico: snacks), to provide through small snacks the energy you need to continue on a daily basis.
Some of them are considered healthy, such as snacks, dried fruit or cereals, while there are others that are not healthy at all due to their amount of sweeteners, colorings or preservatives.
For this reason, we took on the task of providing you with a recipe that will make you forget that having a snack between meals can harm you or does not go with your lifestyle, but on the contrary, with healthy ingredients you prepare a snack that you take with you everywhere, share and enjoy to the fullest bite by bite. Are you ready? To prepare has been said!
Ingredients:
1 cup of peanut butter

1/2 cup powdered milk (light)

30 No Bake Sweet Cookies (Marias)

2/3 cup of natural honey

1 cup of grated coconut Don Zabor
Preparation:
To start, we bring to the table some wax paper and a rolling pin, now with this we will make the cookies without baking in pieces, as much as you can and it is within your reach. If you want to skip this step or to make it finer and faster, use a food processor for this task.
Find a mixing bowl to stir the crackers you ground up, along with the peanut butter, raw honey, and powdered milk.
Try to mix the ingredients as much as possible, if you don't want to get dirty, use kitchen gloves and check it until you see the homogeneous mixture.
Carefully form the balls, this is where you choose the size of the snack, if you are a fan of tiny things, create small spheres, if you have little time, you can go with larger balls, yes, without exaggerate and to give you more.
Now that you have your balls ready, prepare the coconut on a plate or refractory, make a bed of this ingredient so that you can pass the balls there, make sure they have enough and are impregnated with coconut. If you think it's necessary, sprinkle at the end.
On another piece of wax paper, next to your mixture, put the balls to dry for a while.
And finally, look for a container with a lid to store them in the refrigerator, preferably use a glass one to better preserve its flavor and temperature.
You could really improvise this recipe a bit, in some recommendations they add amaranth, chocolate, banana, oatmeal or even blueberries to the mix to make it even more delicious and visually appealing. Also within the preparation, from the beginning you could save yourself some steps by putting all the ingredients in the food processor, this is a good advice if you are in a hurry but you need to take your snacks to the gym or school, right away!
Did you make it? This appetizer is really very simple, you can make it before leaving home and store it in your fridge. It's also a great activity to do with the kids at home and teach them a little cooking knowledge.
We hope you liked our healthy snack option, keep in mind the Don Zabor products to prepare these incredible recipes with the quality and safety you deserve. Stay tuned for our recipes and enjoy!