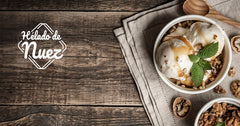 In the hottest time of the year this dessert is almost necessary; Do you remember going a summer without having ice cream? We bring you a version that in addition to being delicious, is friendly to the environment.
Yes, just as you read it, friendly to the environment. The secret of this ice cream is that it contains vegetable milk; You can even use the one we share here to give it a delicious touch.
Today we are going straight to the recipe, simply because it is the easiest and we also have a bonus, some variants of this ice cream that will leave you with a tremendous craving for dessert.
Walnut ice cream
On its own or with another dessert (such as a brownie or apple pie), this ice cream is one of the most delicious and easy things to make.
Ingredients
2 cups of

walnuts

2 cups of non-dairy milk
1 cup of water
1 teaspoon vanilla extract
1⁄2 cup sugar
4 tablespoons of coconut oil
1 stick of cinnamon
Preparation
Soak the nuts overnight (or at least 8 hours); They must be completely covered with water.

Put the cup of water, cinnamon, and sugar in a small saucepan over medium-high heat and stir until the sugar is dissolved.

Add the non-dairy milk and continue stirring for about five minutes. Remove from the heat, remove the cinnamon stick and wait for it to cool.

Discard the water from the nuts and place them in the blender.

Add the milk mixture and blend.

Once the mixture is well blended and has a creamy consistency, add the coconut oil.

Place this cream in a container suitable for the freezer, and put it in the freezer.

Every half hour, stir the mixture to achieve an even more creamy consistency, for the first two hours.

Leave the mixture in the freezer until it is as firm as desired and enjoy!
And the variations?
What is promised is debt, and here we are to pamper you with the best recipes, so here we share some variations of this recipe, the extra ingredients (to which that you must add those of the base recipe) and we explain what parts of the process change.
Chocolate walnut ice cream
Ingredients
100 gr of cocoa powder
1 pinch of sea salt
Preparation

The only difference is that you must add these ingredients to the original recipe before blending. If you want to show off or impress a friend, date, granny or be the center of attention in a meeting, we suggest you add chocolate chips for baking and voila! A homemade ice cream, delicious and we could even say elegant.
Snickers ice cream
This variation is to die for; if you ask us, this is our favorite, and although it takes a little longer, it is totally worth it.
Ingredients
100 gr of baking chocolate in small pieces
1 pinch of sea salt
1⁄4 cup caramel sauce
1⁄2 cup chopped peanuts
Preparation
Make the base recipe and when blending add the salt
Once you have the mixture, put it in the freezer as in the base recipe, follow the steps of the same and when it feels firm, add the caramel sauce, the peanuts and the chocolate without beating too much for a swirly texture.
Return the mixture to the freezer and wait half an hour more before enjoying this ice cream of gods.
Walnut ice cream with strawberry
If there is something that reminds us of our childhood, it is this ice cream. Only this version is more complex and in addition to bringing back good memories, you won't want to put the spoon down.
Ingredients
2 cups of strawberries previously washed and without stems.
50 gr of baking chocolate in small pieces
1 pinch of sea salt
Preparation
Make the base recipe and when blending add the salt and strawberries.
Once you have the mixture, add the chocolate pieces, mix well and take it to the freezer following the steps of the base recipe.
Ready! You can enjoy your ice cream as a child.
You can create your own versions of our base recipe, how about adding blueberries? how about shredded coconut for a tropical version? Take inspiration from our product catalogue!
Did you make any of these recipes? Remember that you can tag us on social networks and share photos of your experience and results. To find the Don Zabor products you see in this recipe, visit any Walmart, Superama, Bodega Aurrera, H-E-B, laComer, CityClub and Alsuper.
.