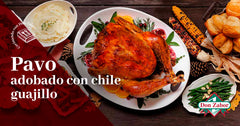 The wait is over! Christmas and New Year are just around the corner, so main dinners and family gatherings are almost a fact. Do you already have your dinner planned? If you are still looking for a way to prepare the turkey for one of the two traditional dates, we have an option that will spice up your table and your special meeting.
We have a special preparation for you, with guajillo chili! So take note of our ingredients, get them and don't miss this opportunity to create a delicious marinated turkey, go for it!
Ingredients:
2 cloves of garlic

1 onion

Salt

1

turkey

White wine

Oil

1 cup of mustard

2 colas

Oregano

Chicken bouillon powder

2 sticks of margarine

Ground pepper

1 cup of water

1 cup of orange juice
Preparation:
The first thing we will do is the marinade, so we will start by cleaning the guajillo peppers, you will have to remove the veins and the seeds.

Now, prepare a pot with a little oil and sauté the guajillo peppers for less than a minute and over low heat. Add pepper, garlic, half an onion, oregano and 1 teaspoon of chicken bouillon powder.

Then, keep stirring the mixture and add the orange juice, plus the cup of water. Let it boil for about 5 minutes and turn off.

Let it cool and now put it in the blender to make the sauce, add the soft drinks, white wine and margarine. Once it is ready and well ground, prepare a pot with oil and fry.

Once it boils and changes color a bit, the guajillo chili sauce marinade will be ready.

Take the turkey out and brush everything with the mustard. You should leave it like that for an hour and a half.

Take out a refractory where the turkey fits and grease with margarine. Place the turkey there and start basting it with the sauce we prepared.

Preheat the oven to 375ºF and place the

turkey in the oven

.

Leave it for approximately 2 to 3 hours, you can check from time to time and very carefully if it is ready.
Have you already tried it like this? Surely this recipe will help you to be the sensation of the night, do not miss the opportunity to prepare it with guajillo peppers and the best touch you know how to give to food, show off with everyone!
Remember that you can find Don Zabor products in the best self-service stores and learn more on their website.