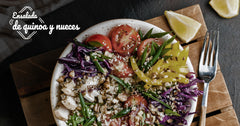 A​ easy and delicious recipe pfor the season of Lent.
If you are looking for a ​recipe​ different​ to cook During Lent, this is your moment. Forget recipes with fish or boring or unhealthy recipes and try this salad that is much more ​nutritious​, delicious​ and filler​ of what it seems.
Who has not been surprised to try a dish that looks very healthy and is really delicious? Today we bring you a plant-based recipe that you are going to want to show off even to your grandmother –yes, we already know that there is no cook like her but with this quinoa and walnut salad you will be her pride in kitchen matters.
Prepare this ​recipe​ fresh, practical and with the foods that will provide your body with the protein it needs for the daily​; In addition, it is ideal to take care of your diet without stopping eating delicious food and if that were not enough, you help the little animals and the planet earth by eating more products ​sustainable​.
If you have never eaten ​quinoa​, you have missed out on a healthy and easy-to-prepare ally; in addition, it is ​gluten-free,​ it facilitates the ​weight loss​ and helps you improve digestion,​ among many others Benefits. Also, in this easy and colorful recipe, you will enjoy some Don Zabor products that will give it the perfect touch to balance the ​flavors​.
Furthermore, after Lent you can continue using this recipe to accompany your dishes with chicken, fish or beef or cook it as we present it because that way it is already ultra delicious.
For us, this recipe is so easy that you practically do not need instructions, but we leave you here the procedure and the ​ingredients​ that you will need.

Ingredients:
2 cups of cooked quinoa
1⁄2 cup finely chopped red onion
1⁄2 cup shredded red cabbage
1⁄2 cup yellow bell pepper cut into small sticks
1 cup cherry tomatoes, sliced ​​in halves
1 avocado in small cubes
1⁄2 cup sliced ​​raw mushrooms
1 handful of blueberries
1⁄3 cup pecans​ chopped or shredded.
1 tablespoon ​caramelized sesame seed
2 tablespoons lemon juice
1 tablespoon of agave syrup
1⁄4 cup of oil

Pepper and salt to taste
Elaboration:
In a bowl, add the quinoa, onion, cabbage, bell pepper, tomatoes, avocado, mushrooms and sesame seed and stir well. Store this mixture in the refrigerator while you perform the next step.

In small bowl, stir lemon, oil, honey, pepper and salt; you can omit the honey and you'll still have a good result.

Add the previous vinaigrette to the mixture that you kept in the fridge, mix well and serve.

Decorate with the​ walnuts​ and the blueberries.​
Pro-tips:​ you can make variations of this recipe with your favorite ingredients, cubed baked or fried sweet potato, broccoli, potato, ​little beans ​, carrot, whatever strikes your fancy or is in season, and instead of chopping the walnuts, you can throw them in the blender for a few seconds and voila, easily chopped walnuts
Thanks for saving and csharing​ our favorite recipes! If you make this recipe, don't forget to tag us on r​social media​, we love to see the results of our happy clients.
If you're not sure where to find your ingredients, remember that you can look for Don Zabor products at Walmart, H-E-B, laComer, CityClub and Alsuper. Bon appetit!
.