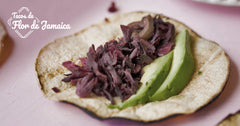 We are already very close to one of our favorite seasons of the year, the most colorful of all, and what better way to celebrate the arrival of spring than with flowers? We are not referring to a traditional bouquet of flowers, but to something much more original; with studs.
Although the way we normally use hibiscus flower is to make a tea or fresh water and then discard the flowers, the reality is that these can also be consumed and are delicious. If you haven't tried them yet and are looking for original recipes or dishes, keep reading.
Very Mexican tradition
Originally roselle comes from Asia and Africa, however, Mexico is the seventh largest producer in the world and this flower is part of our gastronomic tradition; not
there is no inn or Mexican restaurant that does not offer water from jamaica, and it also has such diverse uses as coloring, flavoring and even in cosmetics and pharmaceuticals
We also use it as a diuretic, to regulate blood pressure, relieve fever and it is even taken to treat diseases such as cancer, although we do not know how effective it is in conditions like that.
Tips
Before starting with our star recipe for taquitos made from this unique flower, here are some tips:
Nothing goes to waste! When you put the flowers to cook, reserve the concentrate and keep it in your fridge; It will serve you to prepare fresh jamaica water.

When draining the roselle, be sure to drain it as much as possible; this way it will be easier to achieve extra golden taquitos.
It may seem strange, but the use of sugar in this and many other recipes is necessary to regulate the acidity of some ingredients and thus balance the flavors.

If the hibiscus is too big, you can chop it once you've boiled and drained it.
We share our secret recipe for Jamaican tacos. Enjoy them!
Ingredients:
1 tablespoon vegetable oil
1⁄2 cup chopped onion
2 cloves of garlic, finely chopped
2 cups of hibiscus flower boiled and drained
Cumin powder
Oregano

Salt to taste

1 tablespoon of sugar
To serve:
Corn tortillas
Avocado

Macha sauce

Cotija cheese (optional)
Heat a skillet over medium heat, and add the oil.

Once the oil is hot, carefully add the onion and garlic and cook until they change color and the onion is slightly translucent.

Add the hibiscus to the pan and add the sugar and a pinch of cumin; stir well.

Once most of the liquid has evaporated and the Jamaica is beginning to look golden brown, add the salt and a pinch of oregano. Stir well and remove from heat.

Now your stew is ready to serve! You can serve it on warm corn tortillas , and accompany it with slices of avocado, cotija cheese (it gives it an incredible flavor) and a little macha sauce
Photo: piloncilloyvanilla
Did you already know that the Jamaican flower can be eaten? If you made this recipe, tell us how it turned out and tag us on social media. Remember that you can find many of the ingredients you need at Don Zabor, in stores like Walmart, H-E-B, laComer, CityClub and Alsuper.
.